Find Thanksgiving Solidarity in Celebs' Awkward Cooking Segments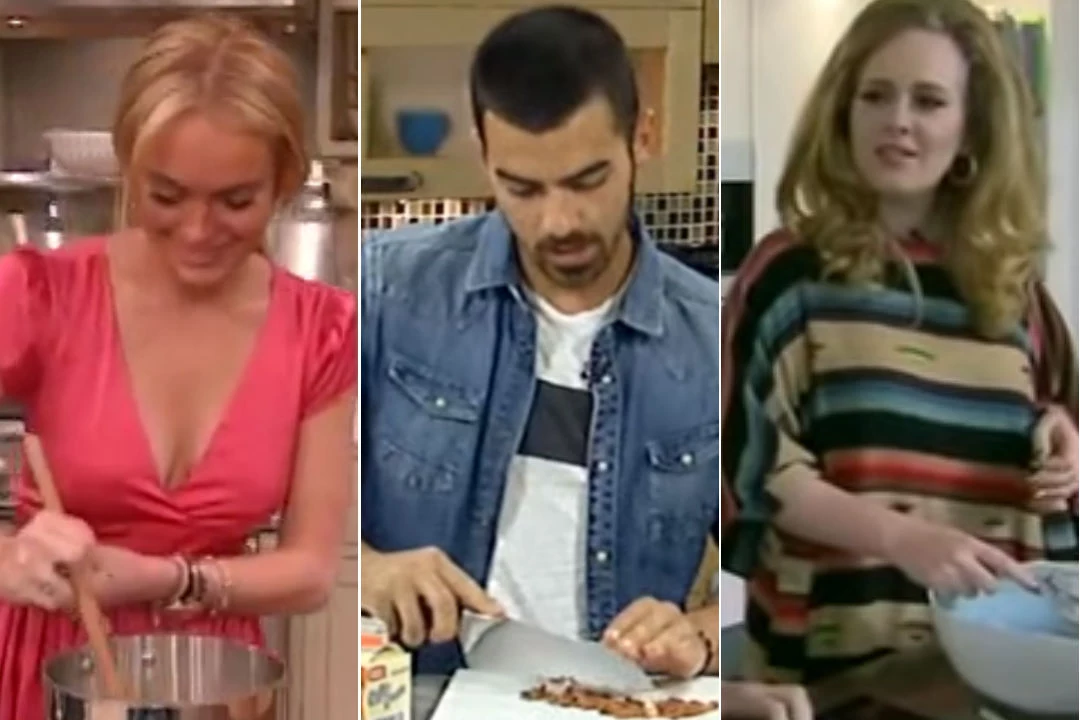 If your Thanksgiving menu's looking a little flat in 2015, and your stuffing could benefit from an extra kick, don't reflexively turn to the family recipe book for inspiration—let Hollywood show you the culinary way!
Over the years, and between talk shows' more traditional couch conversations, your favorite musicians and actors have occasionally taken things to the kitchen. Whether broadcast on early-morning Today segments or Food Network specials filmed at Trisha Yearwood's place, celebrity meal-making has afforded fans the chance to see how the elite handle chopping, pureeing (and Martha Stewart's sly scorn). Plus, there's no thrill quite like watching your favorites splatter grease or fish eggshells out of silky batter.
Below, we've rounded up some of your favorite stars' forays into the great baking- and boiling-unknown. See how they handled whipping up dishes while the cameras were rolling, and if you remember another noteworthy special, share it in the comments!
Mariah Carey, hot cocoa with butterscotch liqueur in it:
Subscribe to 107.3 KFFM on
Any great meal's preceded by the host's choice cocktail, and in Mimi's case, that was hot chocolate with booze in it. It's sure to wet your whistle, dahhhling.
Lindsay Lohan, Anxious Profiteroles:
Subscribe to 107.3 KFFM on
Film critics are tough, but Martha Stewart's kitchen-critiques are doubly so, a lesson Lindsay learned while trying to keep up with dessert prep.
Ariana Grande, Funfetti bundt cake (for Frankie…?):
Subscribe to 107.3 KFFM on
Sometimes, less is more, and when there's no award-winning chef on hand to take the lead, some simple Pillsbury confections will do the trick.
Niall Horan + Zayn Malik, My First Quesadillas
Subscribe to 107.3 KFFM on
Quesadillas: just a tortilla, cheese and choice fillings—and yet, so much more. This One Direction innovation was Niall's first, but likely not his last…
Kelly Clarkson + Trisha Yearwood, pork chops and salad that isn't soggy:
Subscribe to 107.3 KFFM on
It was dinner and a show when Kelly stopped by her idol's house en route to a show in Denver. Plus: experiments with tin foil!
Adele, Rolling in the Dough Cupcakes:
Subscribe to 107.3 KFFM on
When Adele was just 23, she gave Anderson Cooper a full tour of her new, empty home, including a lesson in cupcake-baking.
Demi Lovato, cookies that are shaped like CDs:
Subscribe to 107.3 KFFM on
Demi humbly shared in an interview that her kitchen talents start and stop with pouring bowls of Frosted Flakes, but she really sold herself short. Silver frosting on novelty cookies? The intrigue!
Joe Jonas, Shrimp and Grits a la Cleveland:
Subscribe to 107.3 KFFM on
It's not just big network segments that land stars—local access news made a real sous chef out of the Jonas brother, who winked through his prep work like he had a retinal condition. Such fine dicing!
Selena Gomez, Aunt Livada's Cheesecake with Errant Floating Ladyfinger:
Subscribe to 107.3 KFFM on
The Gomez family secret? J-E-L-L-O.
Look at a photo-collection of your favorite celebs in the kitchen:

Source:
Find Thanksgiving Solidarity in Celebs' Awkward Cooking Segments