Lady Gaga Gets Cheeky With 'Do What U Want' Artwork [PHOTO]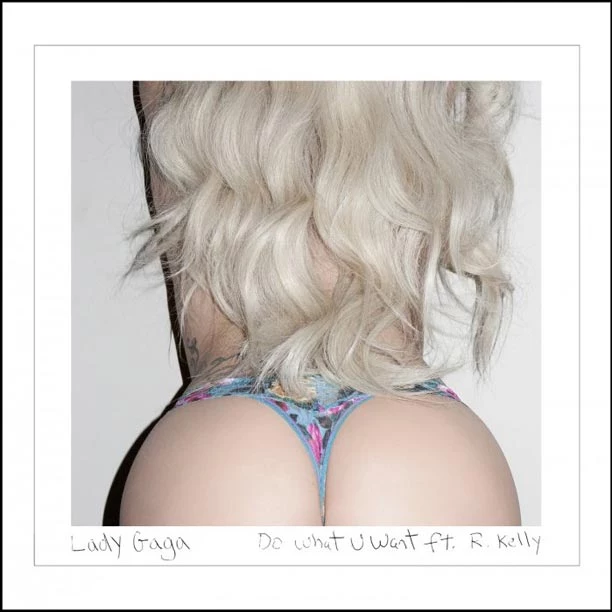 Lady Gaga got cheeky on the official cover art for her R. Kelly collabo 'Do What U Want,' which appears on 'ARTPOP.'
That's quite a half-moon isn't it? Nice dental floss, Mother Monster!
We heard a snippet of the song in a Best Buy commercial earlier this week. It's a sexy song, from the snippet that we heard, with Gaga pretty much saying do whatever you want with my body. Hawt!
The song drops this Monday, at 12:01AM ET, which Gaga revealed via the tweet below.
OFFICIAL DO WHAT U WANT FEAT @RKelly COVER ART. Song Available this Monday 12:01am! pic.twitter.com/L2evORgE2T

— Lady Gaga (@ladygaga) October 19, 2013
Mama Monster also shared another photo from her upcoming Muppets special, which airs on Nov. 28, Thanksgiving night.
Free gobbles to who can guess what song from ARTPOP me and the muppets are singing in this picture! #ABCThanksgiving pic.twitter.com/BcoaDKsvec

— Lady Gaga (@ladygaga) October 18, 2013
So much is going on in the 'ARTPOP' universe. Ma Monster also tweeted some song lyrics, which are below for your little monsterly enjoyment.
I cant help the way I'm feelin' Goddess of Love please take me to your leader! #VENUSLyrics

— Lady Gaga (@ladygaga) October 18, 2013

Source:
Lady Gaga Gets Cheeky With 'Do What U Want' Artwork [PHOTO]