Miley Cyrus' VMAs Date Jesse Helt Turns Himself In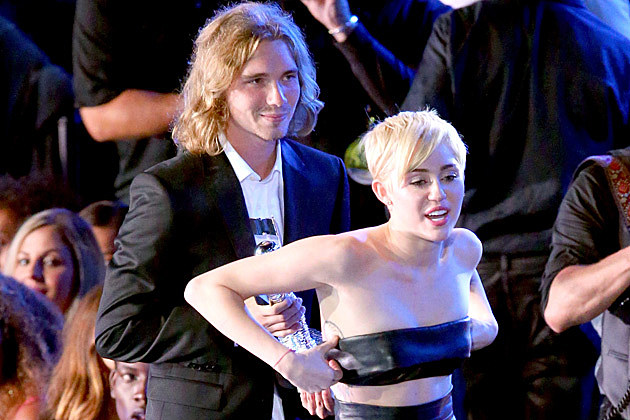 Miley Cyrus' homeless 2014 MTV VMAs date Jesse Helt has turned himself in to police, the Associated Press reports (via Us Weekly).
Twenty-two-year-old Helt, who famously accepted Cyrus' Video of the Year award on behalf of the 1.6 million homeless youth living in the U.S., had a warrant out for his arrest for violating probation on previous charges of criminal trespassing and criminal mischief. Us reports that the Polk County Community Corrections director said that Helt has "done the right thing" by turning himself in last night (Aug. 28). The young man also posted $2,500 bail and is expected to go before a judge in a few weeks.
When news of Helt's criminal past broke, Cyrus spoke out in defense of her friend, tweeting (among other messages):
People who are homeless have lived very hard lives. Jesse included.

— Miley Ray Cyrus (@MileyCyrus) August 26, 2014
The media never fails to disappoint. You've chosen to go after Jesse instead of covering the issue of youth homelessness

— Miley Ray Cyrus (@MileyCyrus) August 26, 2014
And the 'Wrecking Ball' singer is more than determined than ever to help her pal and others who are homeless. Helt's mother revealed that Cyrus has offered to pay her son's legal fees, while Trevor Neilson (who first put the pop star in touch with Helt) explained that Cyrus will be "assisting him with this process, and they both are committed to working to help the other 1.6 million youth who experience homelessness in America each year."
See Miley Cyrus + More Celebrities' Yearbook Photos

Source:
Miley Cyrus' VMAs Date Jesse Helt Turns Himself In