Actress Sara Ramirez Slams ABC Over Biphobic 'Real O'Neals' Joke and Bisexual Erasure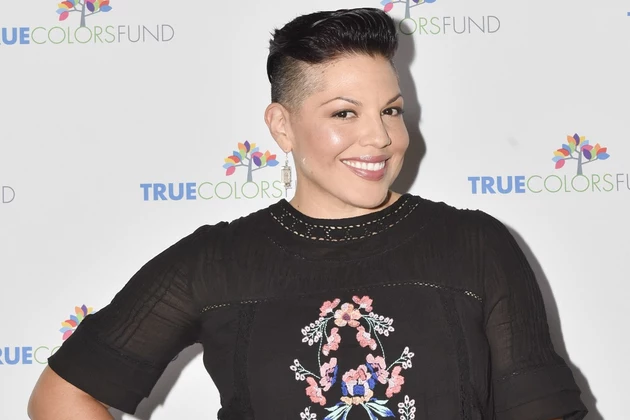 Actress Sara Ramirez slammed ABC for allowing an insensitive joke about bisexuality to air on The Real O'Neals.
Ramirez, who famously played bisexual doctor Callie Torres on Grey's Anatomy for nearly a decade and who is herself bi, criticized the show for making a joke comparing the struggles of bisexual people to having inconveniences like "webbed toes" and "money problems."
The joke, which was made by openly gay character Kenny, aired during the January 17 episode and was, according to the actress, biphobic in that it minimized the lived experiences of bisexual individuals.
In response, Ramirez linked to a petition to "End Biphobia and Bi-erasure on The Real O'Neals" on Twitter, where she wrote, "As someone who worked [for ABC for] 10 years+, [I] am truly disheartened & disappointed quite frankly."
Ramirez, however, is not the first celebrity to speak out against bi erasure. In September 2016, singer-songwriter Halsey hit back at BuzzFeed after they published an article that analyzed her sexuality in relation to her status as a pop star without taking into consideration her bisexuality, effectively erasing her own sexual identity.
Meanwhile, this isn't the first time The Real O'Neals has faced backlash for contributing to controversial narratives about the LGBTQ community: In August, the show's star Noah Galvin came under fire after criticizing fellow gay actor Colton Haynes' coming-out process, calling it "p—- bull—-."
See Ramirez's tweets below:
WORDS MATTER.PLEASE SIGN this petition 2 @ABCNetwork protesting biphobia in @TheRealONeals: https://t.co/TkyT5ICtgo @StillBisexual #LGBTQ

— Sara Ramirez (@SaraRamirez) February 16, 2017
And as someone who worked 4 them 4 10 years+,am truly disheartened & disappointed quite frankly.I will invest my brand where I'm respected. https://t.co/NQQAPDsFlU

— Sara Ramirez (@SaraRamirez) February 16, 2017
Dear @ABCNetwork @TheRealONeals :own it,address it,clarify it,empower our #Queer #Bisexual youth & community w/accurate positive reflections

— Sara Ramirez (@SaraRamirez) February 16, 2017
Inspiring Stars Who Have Opened Up About Their Sexuality:

Source:
Actress Sara Ramirez Slams ABC Over Biphobic 'Real O'Neals' Joke and Bisexual Erasure