Twitter Rips Donald Trump a New One #WithFewExceptions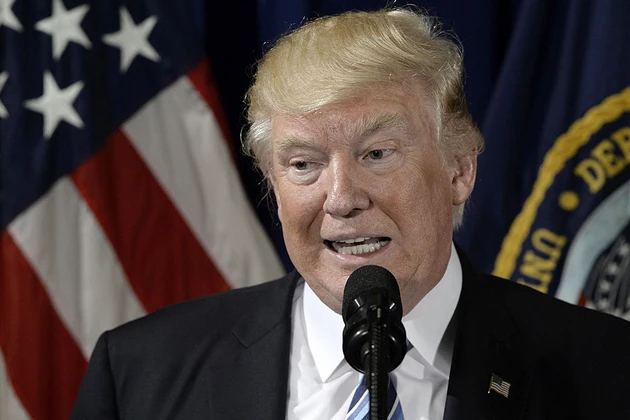 Get ready to be shocked — the Internet is poking fun at Donald Trump.
Yeah, we know it's hard to believe, but it's true. What's the bruhaha this time? Take a look for yourself.
BREAKING: Trump lawyer: Tax returns from past 10 years show no "income of any type from Russian sources," with few exceptions.

— The Associated Press (@AP) May 12, 2017
Yeah, that whole "with few exceptions" part caught the eye of the Twittersphere, which had a field day roasting the president. This newest development provided an opportunity for people to take aim at Trump, while also making some other jokes.
#WithFewExceptions was trending on the microblogging site with many people quick to make jokes at Trump's expense. Strap yourself in. You're going to have some laughs…with few exceptions.
Christian Conservatives would never vote for a Godless, thieving, corrupt, misogynistic, sexist, bigot to lead them, #withfewexceptions.

— Ricky Davila (@TheRickyDavila) May 12, 2017
My sons love animals #withfewexceptions pic.twitter.com/HCVetwTSD6

— andy lassner (@andylassner) May 12, 2017
"I have NEVER insulted the disabled, #WithFewExceptions." pic.twitter.com/lVcar22Wgr

— Diane N. Sevenay (@Diane_7A) May 12, 2017
I've never had inappropriate feelings toward my daughter #withfewexceptions pic.twitter.com/tFS2kNGaOa

— ImpeachTrump (@dumptrump33) May 12, 2017
The Titanic enjoyed many pleasant and uneventful hours' sailing. #WithFewExceptions

— Joanne Harris (@Joannechocolat) May 12, 2017
I workout vigorously every day at the gym, #withfewexceptions

— Allan Shifman (@AllanShifman) May 12, 2017
I have never made love to a man. #withfewexceptions pic.twitter.com/19al8WVKvg

— Zach Braff (@zachbraff) May 12, 2017
I don't masturbate everyday. #withfewexceptions

— SienaSoup (@sienasoup) May 12, 2017
"I have never covertly worked for foreign power" #withfewexceptions https://t.co/Cn0bzKXqB6

— G Paul Marx (@gpmarx_g) May 12, 2017
I am eating a salad #withfewexceptions pic.twitter.com/E5KaF78Gty

— Tony Posnanski (@tonyposnanski) May 12, 2017
Donald Trump has never broken a promise #WithFewExceptions pic.twitter.com/4fiUThlBbr

— Brad Ripka (@WaltThatcher) May 12, 2017
Nobody wants Trump impeached, with a few exceptions*

*65+ million Americans #withfewexceptions

— Kaivan Shroff (@KaivanShroff) May 12, 2017
People don't die bc of no access to healthcare #withfewexceptions

— DC (@DCA2LHR) May 12, 2017
It's Friday and tonight I will not have any drinks #withfewexceptions

— Mmmm Petrichor (@redcanwine) May 12, 2017
I have never taken more than one penny from the little tray at the 7-11, with few exceptions. #withfewexceptions #impeach45

— Ty (@tkfc) May 12, 2017
Trump is not a dumb incompetent POS #WithFewExceptions

— Lauren Stevens (@TLaurenStevens) May 12, 2017
I had zero carbs this morning, #WithFewExceptions.

— Sweetshade Lane (@SweetshadeLane) May 12, 2017
I never scarf down an entire box of Girl Scout cookies in one sitting #WithFewExceptions @girlsreallyrule https://t.co/aoBp4AqBlw

— GirlEsqA (@GirlEsqA) May 12, 2017
Trump has no conflict of interest. #withfewexceptions

— mia laurienzo (@mommamia1217) May 12, 2017
I've paid back every one of my student loans #WithFewExceptions

— Andrew Holmes (@AndrewTHolmes) May 12, 2017
Stars Who Protested Trump's Immigration Ban

Source:
Twitter Rips Donald Trump a New One #WithFewExceptions