'X Factor' Recap: Another One Bites the Dust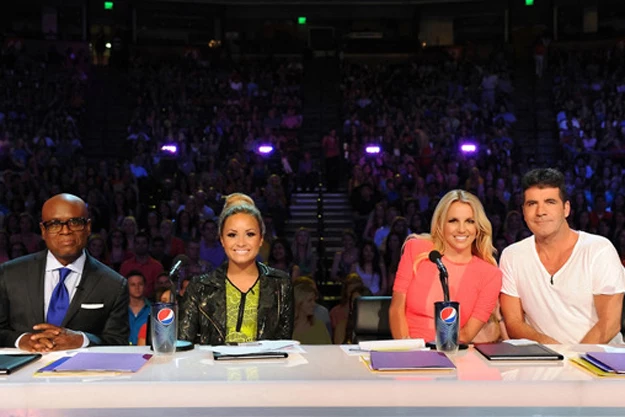 There's a multitude of live results shows airing tonight — okay, maybe two isn't a multitude, but you get the picture. Both 'X Factor' and 'The Voice' will go head-to-head in a live results battle of epic proportions, probably much to the dismay of Simon Cowell.According to judge Demi Lovato via a tweet, "we're gonna get the results for each contestant in order of votes!! #XFCouldGetAwkward."
One Direction opened the show with 'Live While We're Young' and the handsome quintet brought us back to the good ol' days of the Backstreet Boys and NSYNC. 1D also performed their newest single 'Little Things' and it actually sounded beautiful. Ballads for the win!
Because the show is sponsored by Pepsi, the hosts had to make mention to the band of the "possibility" of "adding a sixth member" to the group in the form of New Orleans Saints quarterback Drew Brees, who appears alongside the band in a Pepsi commercial. Brees taped an embarrassing video, talking about how awful it was that he couldn't be there to perform and, basically, long live 1DB.
16 minutes into the show, and we still hadn't seen any of the contestants or judges; just their appearances in a B-roll looking over their performances from the prior night. But finally the hosts began to announce who was through to the Top 12.
In a beyond awkward fashion, Odom and Lopez began rattling off the first six names that were safe. They are:
The next set of contestants through to the top 12 are:
The bottom two are CeCe Frey and Jason Brock, who will sing for survival. Afterward, the judges will decide on the spot who stays and who goes.
CeCe Frey: She chose quite the "save me" song in the form of Cher's 'You Haven't Seen the Last of Me' from the movie 'Burlesque' — which just so happens to star 'X Factor' rival judge Christina Aguilera from 'The Voice.' Her performance was strong, and she shines best when it's just her on stage with her vocals. Lovato needs to take note of this and let leopard face shine naked … sort of.
Jason Brock: "Mr. Entertainment" chose Bonnie Tyler's 'Total Eclipse of the Heart' to try and convince the judges to let him stay in the competition. Dressed in a nice suit with some kind of blinged out rodeo ascot, the emotion poured out during his rendition, but we have a sneaking suspicion he's going to go home.
Two judges sent Frey home, the other two sent Brock home, which meant a deadlock tie. The act with the lowest number of at home votes would now be the act going home. The person going home: Jason Brock.
It was an awkward display of emotion, as Lopez almost too excitedly announced his name to leave the competition. Then there was Frey crying on stage next to everyone while Lopez was hugging her and Lovato ran from the judges table to go backstage; L.A. Reid walked on stage to offer condolences and a handshake to his now one-time charge. Just ugh. "Awkward" is the word of the night for 'X Factor.'
With the Most Votes from At-Home Audience:
Tate Stevens
Carly Rose Sonenclar
Vino Alan
Diamond White
Fifth Harmony
Emblem3
Jennel Garcia
Paige Thomas
Until next week, little 'X Factor' dahlings!

Source:
'X Factor' Recap: Another One Bites the Dust