Bruno Mars Channels the King of Pop on New 'Moonshine' Track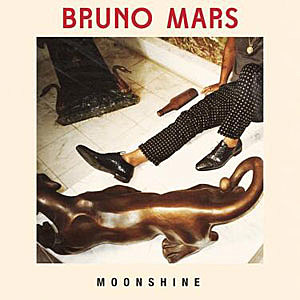 Bruno Mars channels Michael Jackson on 'Moonshine,' a new track from the Hawaiian pop star's upcoming sophomore album 'Unorthodox Jukebox.'
Mars released the artwork and a link to the track on his Twitter feed, where he wrote, "I've been jammin to this song for a while now. I hope yall can groove wit me and slide wit me but most important BOK wit me #Moonshine."
In the rhythmic pop song, Mars sounds a whole lot like old-school MJ when he sings, "Moonshine / Take us to the stars tonight / Take us to that special place / That place we went the last time, the last time." We think the King of Pop would be pleased that his influence is still being heard in the music of one of today's hottest stars.
Mars wrote 'Moonshine' with his partners in the Smeezingtons production team, as well as Andrew Wyatt of indie pop group Miike Snow and Amy Winehouse producer Mark Ronson.
'Unorthodox Jukebox' arrives at retailers on Dec. 11. The lead single, 'Locked Out of Heaven,' recently moved up to No. 6 on the Billboard Hot 100.
Listen to Bruno Mars, 'Moonshine'
Subscribe to 107.3 KFFM on

Source:
Bruno Mars Channels the King of Pop on New 'Moonshine' Track