Celebrities' Father's Day Wishes: Rihanna, Cher Lloyd + More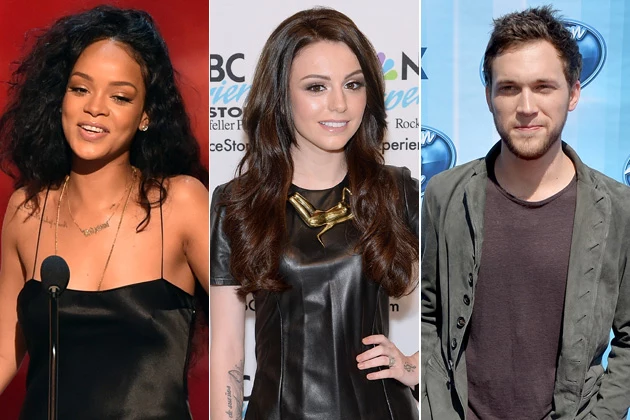 It's Father's Day today, June 15, and several celebrities are sharing their Father's Day wishes online for their own dads, their husbands, and dads everywhere. Rihanna tweeted a picture with her dad, as did Julianne Hough. Alicia Keys gave a shoutout to husband Swizz Beatz with a cute photo of shoes belonging to dad and son Egypt.
Here's a roundup of the tweets from our favorite celebrities and from us at PopCrush as well, we wish all of the dads out there a happy Father's Day.
Rihanna
Happy Father's Day Pops! I love you deeply and unconditionally! You've taught me so much about myself! #DAD pic.twitter.com/bmJhZSvOb4

— Rihanna (@rihanna) June 15, 2014
Happy Father's Day to the step fathers who step up for the fathers who cant! And especially to the Mothers who have to be both, we adore you

— Rihanna (@rihanna) June 15, 2014
Julianne Hough
Happy Fathers Day to all the dads out there! I'm so blessed to have my Pappa! What makes a great… http://t.co/ATw36MrXdE

— Julianne Hough (@juliannehough) June 15, 2014
Cher Lloyd
Alicia Keys
Happy Father's Day!! Thank you to all the daddy's that show little shoes how to fill big shoes one… http://t.co/T3SdyVqVEd

— Alicia Keys (@aliciakeys) June 15, 2014
AnnaLynne McCord
To My Daddy on Father's Day: more than ever on this day I am grateful for #REDEMPTION Happy Father's… http://t.co/GAPpLru21F

— AnnaLynne McCord (@IAMannalynnemcc) June 15, 2014
Sarah Michelle Gellar
#HappyFathersDay to all men out there who are working to be good fathers and examples, whether they are biological, step or just with love.

— Sarah Michelle (@RealSMG) June 15, 2014
Lena Dunham
I got really lucky in the dad department and it's made a bunch of hard stuff easier. Happy father's day! Dudes, your job is so important.

— Lena Dunham (@lenadunham) June 15, 2014
Let's celebrate the moms who do "dad" things, the dads who do "mom" things & the kids who don't care who loves them, just that it gets done.

— Lena Dunham (@lenadunham) June 15, 2014
Pitbull
Happy Papi Day pic.twitter.com/xdawefh2p6

— Pitbull (@pitbull) June 15, 2014
Kevin Jonas
Thank you @daniellejonas for my Father's Day breakfast in bed http://t.co/AgunGVaNLn

— kevin jonas (@kevinjonas) June 15, 2014
Pete Wentz
Happy Father's Day…

— Pete Wentz (@petewentz) June 15, 2014
Megan Nicole
Happy Father's Day to my dad. Thanks for always encouraging me and Madison to chase after our dreams and work hard. And thank you for all…

— Megan Nicole (@megannicole) June 15, 2014
Cassadee Pope
Happy Father's Day to my dad, Lenny! I love you and I wish I could share today with you. <3

— Cassadee Pope (@CassadeePope) June 15, 2014
Bridgit Mendler
Happy #FathersDay! Last day to get in on the #BabySitIn project: http://t.co/rpehzExI6Q

— Bridgit Mendler (@bridgitmendler) June 15, 2014
Bella Thorne
Happy Father's Day to all the Dads that stand by their kids, take them to their games, nurture and support them. You are loved

— bella thorne (@bellathorne) June 15, 2014
Phillip Phillips
Happy Father's Day to my dad! I love you so much dad! Hope your day is incredible!

— Phillip Phillips (@Phillips) June 15, 2014
Ashley Tisdale
Happy Father's Day daddy!! Thanks for all the pep talks and telling me to never give up. You do so… http://t.co/Pr3Ol3eP96

— Ashley Tisdale (@ashleytisdale) June 15, 2014
Robin Thicke
Happy Father's Day. Love you Julian

— Robin Thicke (@robinthicke) June 15, 2014
Jennifer Hudson
Happy Father's Day to my dada! http://t.co/1nzKDPVCUk

— Jennifer Hudson (@IAMJHUD) June 15, 2014
Chord Overstreet
Happy fathers day to my amazing Dad pauloverstreet. God broke the mold when he made you. Love you Dad http://t.co/GUimqH9Fc5

— Chord Overstreet (@chordoverstreet) June 15, 2014
Christina Perri Nikki Reed
Happy Father's Day to my favorite man in the world. I wouldn't be who I am today without your unconditional love, wi… http://t.co/wDpoKGmBLH

— Nikki Reed (@NikkiReed_I_Am) June 15, 2014
Nick Lachey
Happy Fathers Day to all the dads out there! There is truly nothing like the love of your child. Cherish this day and EVERY other! #DadsDay

— Nick Lachey (@NickLachey) June 15, 2014

Source:
Celebrities' Father's Day Wishes: Rihanna, Cher Lloyd + More