'Crashing' Star Artie Lange on Possible HBO Firing Over Drug Charges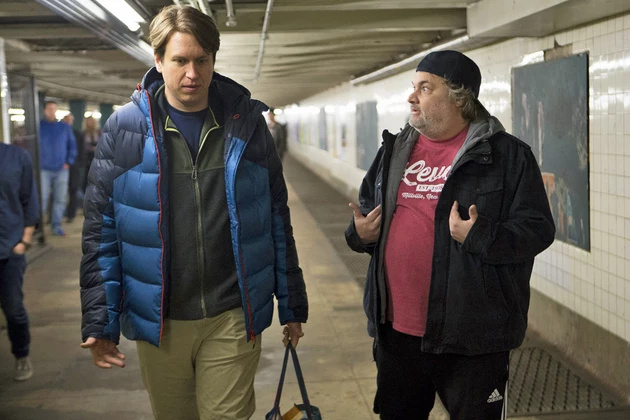 Any fan of Artie Lange knows the comedian's history of substance abuse and legal troubles, one which added a new chapter this week with an arrest for possession. Lange also has a prominent role on HBO's Crashing, which the star acknowledges may now come to an end, if not necessarily by Judd Apatow's doing.
Lange was arrested on Sunday for possession of cocaine, heroin, and drug paraphernalia (via The Hudson Reporter), booked on three charges and eventually released. The former Howard Stern regular has a history of drug use (which was also the focus of his Crashing episode), though Lange took to Twitter to assure fans of his well-being, and acknowledge HBO's potential response:
Hey guys. I was arrested. I'm doing great. Physically too! I'm in St. Louis & will be on stage this weekend at The Funnybone! Love u all!..

— Artie Lange (@artiequitter) March 17, 2017
To u worried fans pls know I love u. Also know I've never wanted to live more!If HBO has to let me go Its my bad! Judd, Pete & u. Thx!

— Artie Lange (@artiequitter) March 17, 2017
For his part, executive producer Judd Apatow seemed to suggest that wouldn't be the case:
We would never give up on Artie or anyone struggling with addiction. https://t.co/zhm8VBwdnR

— Judd Apatow (@JuddApatow) March 17, 2017
Already renewed for Season 2, the semi-autobiographical Crashing follows Pete Holmes as "a sheltered suburbanite who married his childhood sweetheart and dreams of making it as a stand-up comedian. But when he finds out his wife is cheating on him, Pete's world unravels, forcing him to reevaluate his priorities and plunging him into the deep end of the rough-and-tumble New York comedy scene." Also starring are Dave Attell, Hannibal Burress, T.J. Miller, Jim Norton, Rachael Ray and Sarah Silverman as themselves.
You can watch the latest Crashing teaser below, and stay tuned for any official response from HBO.
Subscribe to 107.3 KFFM on
Subscribe to 107.3 KFFM on

Source:
'Crashing' Star Artie Lange on Possible HBO Firing Over Drug Charges