Hanson Hang Out With 'Glee' Stars Matthew Morrison + Darren Criss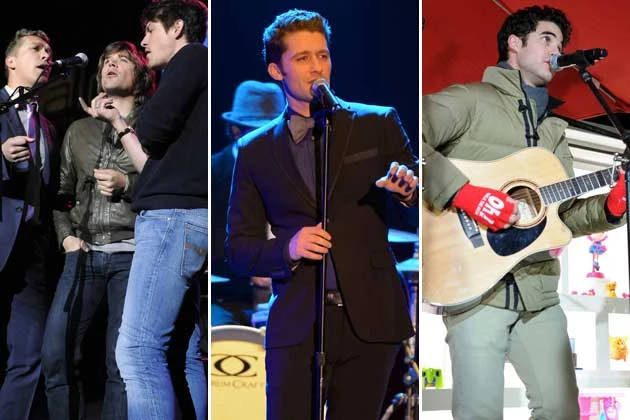 Isaac, Taylor and Zac Hanson are famous for their flawless harmonies and catchy, pop-rock tunes, so it's no wonder they befriended cast members of FOX's musical sitcom, 'Glee.' The brothers hung out with Matthew Morrison and Darren Criss last weekend, and there are tweets and pictures to prove it!
Yesterday (April 7), Taylor tweeted an Instagram photo from a hang session with Morrison, who was recently recruited by Adam Levine to record a duet.
Me and my friend matt_morrison . Enjoying a couple drinks. Good Times. instagram.com/p/Xy_F2eksAR/

— HANSON (@hansonmusic) April 7, 2013
Then, late last night, Hanson launched a surprise live video stream on their website and played a couple of songs from their forthcoming album, 'ANTHEM.' During their performance of the disc's lead single, 'Get the Girl Back,' Criss joined them onstage to add his smooth vocals to the tune.
Did a surprise stream tonight from rehearsal and had a surprise guest too. hanson.net/site/postings/… twitter.com/hansonmusic/st… — HANSON (@hansonmusic) April 8, 2013
Criss also took to Twitter and expressed his excitement about crashing Hanson's rehearsal:
Well that was fun and silly! 15 years in the making, but mission accomplished: Got to sing with @hansonmusic. Check that off the list.

— Darren Criss (@DarrenCriss) April 8, 2013
At the end of the video stream, Taylor named Criss "the new fourth Hanson," which left us dying to know if we can expect a Hanson + 'Glee' collaboration in the future. In the meantime, be sure to tune in to 'The Tonight Show With Jay Leno' tomorrow night (April 9) to watch the talented trio perform their new single!
Watch Darren Criss Perform With Hanson
Subscribe to 107.3 KFFM on

Source:
Hanson Hang Out With 'Glee' Stars Matthew Morrison + Darren Criss