Victoria Beckham Warns Past Self Against Breast Implants in 'Vogue' Letter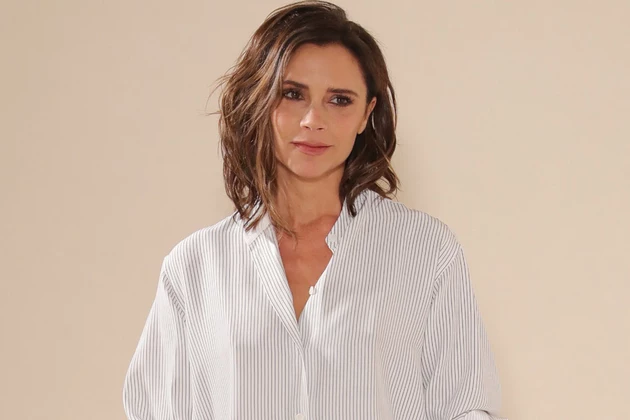 Victoria Beckham penned a letter to her 18-year-old self for the February 2017 issue of British Vogue, where she cautions her younger self against getting breast implants.
"I should probably say, don't mess with your boobs," she wrote. "All those years I denied it – stupid. A sign of insecurity. Just celebrate what you've got."
Beckham admitted in a 2014 Allure interview that she'd had her implants removed, saying, "I don't have them anymore. I think I may have purchased them."
The rest of Beckham's article reads like the unabridged version of a similar letter printed in Vogue for its October 2016 issue. The former Spice Girl writes at length about her time as one-fifth of the famed girl group, imploring her younger self to document the extraordinary experience more closely than she did at the time.
"You cannot possibly imagine your future life right now. You will travel on private planes, visit incredible countries, stay in fantastic hotels," she wrote. "You will storm into people's offices, leap on to tables in hotels and go crazy (although you will also be the one checking that the table isn't going to collapse). You will meet Nelson Mandela, Mariah Carey and Elton John. But please, I implore you, keep a diary. There will be so many amazing moments, and you will forget."
Beckham ends the lengthy letter — rife with relationship and career advice — with one final statement to her younger self: Appreciate the journey.
"Recently I was in New York for the British Vogue cover shoot in a penthouse at the Carlyle hotel. I looked out of the window and I could see the sun shining and all the yellow cabs below and I pinched myself," she wrote. "You are going to have many of those moments. Don't take them for granted."
Head over to Vogue to read Beckham's full letter
The Meaning Behind Band Names: One Direction, Spice Girls + More

Source:
Victoria Beckham Warns Past Self Against Breast Implants in 'Vogue' Letter