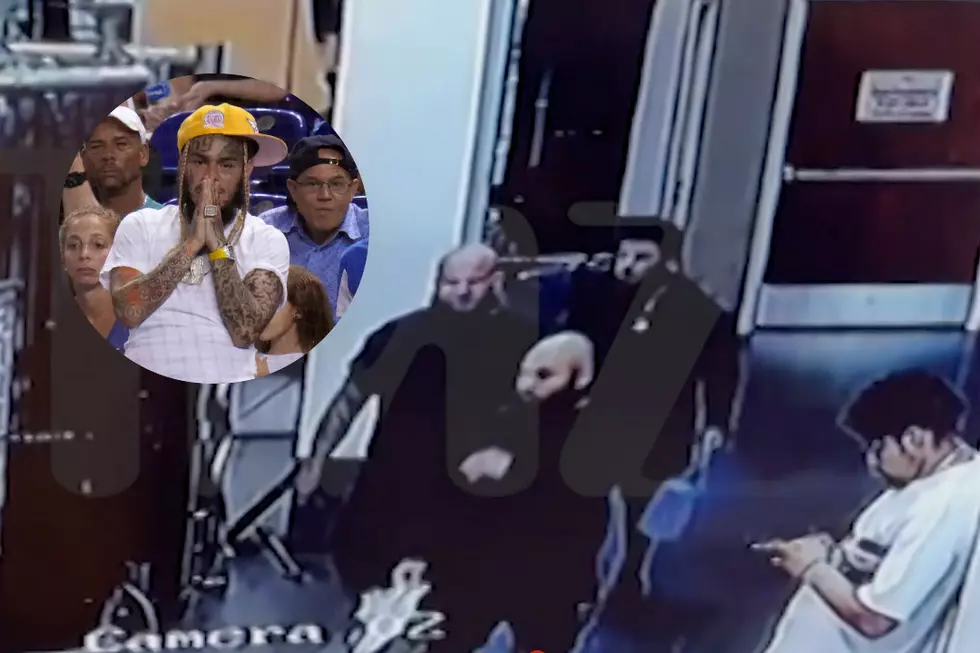 6ix9ine Assault Suspects Arrested – Report
TMZ/Mark Brown/Getty Images
6ix9ine's attackers have reportedly been taken into custody.
On Thursday night (March 30), TMZ broke the news that three men, Rafael Medina, Jr., Octavious Medina and Anthony Maldonado, were arrested by the Palm Beach County Sheriff's Office on Thursday evening. The men have been charged with assaulting and robbing the Brooklyn, N.Y. rapper in the bathroom of a LA Fitness gym last week, according to the celebrity news site.
The arrests come a week after police released a statement about the viral beatdown and urged the public to assist in bringing those to justice who jumped the security-less rapper while it appears he was just trying to work out. The same day, surveillance footage of the  three alleged attackers surfaced that showed one of the men in the gym appearing to wait for the other two men before the trio walked to the area where the beating took place.
XXL has reached out to the Palm Beach County Sheriff's Office for comment.
6ix9ine was beaten bloody in the Lake Worth, Fla. LA Fitness on March 21, with video of the incident quickly hitting the internet. Multiple clips show 6ix9ine being relentlessly jumped while he can only cower on the floor. Police and EMS were called to the scene and Tekashi was transported to the hospital with non life-threatening injuries. The motive for the assault remains unclear.
Shortly after being discharged from the hospital, 6ix9ine skedaddled to Cuba. Video surfaced of the rapper in the Caribbean country on Monday (March 27). On Wednesday (March 29), video was captured of the rapper recording a new music video while surrounded by dozens of locals. It is unclear if he plans to make the country his new home.
See Rappers Named After Notorious Crime Figures