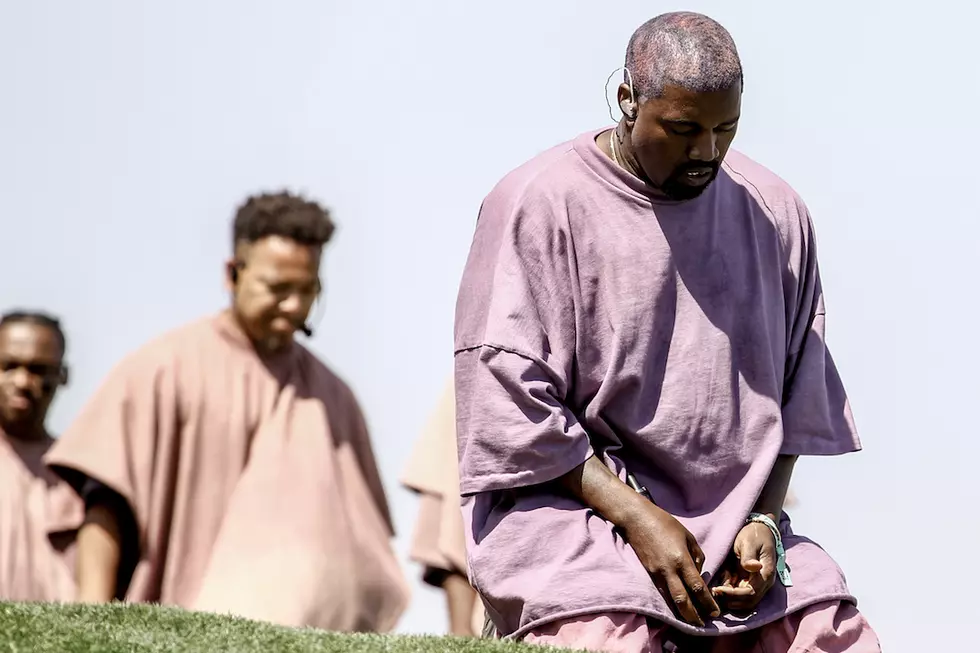 A History of Kanye West's Relationship With Religion
Rich Fury, Getty Images
To say Kanye West has a bit of a God complex might be a bit of an understatement. 'Ye has proven time and time, rhyme and rhyme again how highly he thinks of himself. Look no further than the 2013 track "I Am a God" for proof.
But, when it comes to religion, the rap star's body of work has been packed with theistic themes, which prove his hallowed beliefs still stand true. Yes, Kanye West is a complicated man.
In 2019, fans have seen another humbling shift. Shortly after failing to release his Yandhi album on its first announced release date in November 2018, Yeezy started his weekly Sunday Service, a rap/gospel jam session replete with a whole choir and live band. Following a Holy Ghost-filled performance at the 2019 Coachella Valley Music and Arts Festival, reports surface that Kanye is considering starting his own church.
"He has talked about starting his own church, and what exactly that would be," said a source close to the situation. "It wouldn't be the traditional, three-hymns-and-a-sermon thing. Instead, it would be a way to point people to Jesus through the arts and through a community of people who love and care for each other. He also wants his kids to be raised in faith, and the best way for him to do that is to live out his faith."
With Yeezy looking like he is on the verge of going full Kirk Franklin, XXL looks back and chronicles Kanye West's history with religion.
"Jesus Walks"

February 2004

Kanye releases the single "Jesus Walks" off his 2004 debut album, The College Dropout. The song samples "Walk With Me" as performed by the ARC Choir and finds 'Ye trying to make sense out of his situation with the help of the Almighty. He even rails against a music industry that he claims doesn't support pious hip-hop.

"God show me the way because the Devil's tryna break me down/The only thing that I pray is that my feet don't fail me now," he raps on the chorus. "And I don't think there's nothin' I can do now to right my wrongs/I wanna talk to God but I'm afraid 'cause we ain't spoke in so long."

"Two Words" Featuring Mos Def, Freeway and the Harlem Boys Choir

February 2004

'Ye joins forces with Mos Def and Freeway on The College Dropout single "Two Words." For an added touch, Kanye also employs the Harlem Boys Choir to sing vocals on the track.

Kanye Poses as Jesus for Rolling Stone Cover

May 2006

Kanye appears on the May 2006 cover of Rolling Stone magazine posing as Jesus Christ, complete with a crown of thorns. Shot by famed photographer David LaChapelle, the image draws mixed reviews, with some labeling it blasphemous.

Kanye Starts G.O.O.D. Fridays

August 2010

Kanye starts G.O.O.D. Fridays, a weekly music release of tracks from artists on his label. A name-play on Good Friday, the day of Jesus' crucificion, the titles released during the rollout include "Lord Lord Lord" and "Christmas in Harlem."

"No Church in the Wild"

August 2011

Jay-Z and Kanye West release the album Watch the Throne, which features the single "No Church in the Wild." The single touches on the rejection of traditional relgious doctrines. "We formed a new religion/No sins as long as there's permission," Yeezy spits.

"New God Flow" Featuring Pusha-T

July 2012

Kanye and Pusha-T release the Cruel Summer single "New God Flow," where the duo flexes divine rhymes over the 2013 XXL Awards' Best Beat.

"In Jesus' name, let the choir say/'I'm on fire, ay,' that's what Richard Pryor say/And we'll annihilate anybody that violate," 'Ye spits.

Kanye Debuts "I Am a God" at 2013 Met Gala

May 2013

"I am a god/Even though I'm a man of God/My whole life in the hand of God/So y'all better quit playin' with God," he spits.

Kanye Releases Yeezus Album

June 2013

Kanye releases his sixth and at the time most polarizing album, Yeezus. The title is an obvious play on the name Jesus and features the single "I Am a God."

Kanye Brings Out Fake Jesus on Yeezus Tour

October 2013

Kanye kicks off his Yeezus Tour in October of 2013 in Seattle. The traveling showcase features a special guest: Jesus Christ. Well, sort of. 'Ye employs a man dressed up as Jesus to come out and have a heart-to-heart during each show.

Fan Names New Religion After Kanye West

January 2014

"Yeezus is when Kanye elevates to that God-level, which I feel like we all have the potential to do," the founder revealed. "That's why if it takes off, in the future, people would forget Kanye and his antics, and instead focus on what the message is."

Followers observe what they calls the "5 Pillars," which are as follows:

1. All things created must be for the good of all
2. No human being's right to express themselves must ever be repressed
3. Money is unnecessary except as a means of exchange
4. Man possesses the power to create everything he wants and needs
5. All human suffering exists to stimulate the creative powers of Man

Mural Pops Up Depicting Kanye as Jesus Crucified

April 2014

Kanye Considers Building a Cathedral

August 2014

"He wants this church to include a chapel as a tribute to his mom, along with a stained-glass window featuring him, Kim and their daughter, North," revealed a source. West reportedly sets aside $5 million to get the project started.

Kanye Has Daughter North Baptized in Jerusalem

April 2015

Kanye West and his family travel to the holy land of Jerusalem to have his daughter North baptized. The ceremony takes place at the 12th century Saint James Cathedral in the Armenian Quarter.

Kanye Calls The Life of Pablo a Gospel Album

February 2016

Initially titled So Help Me God (then Swish and then Waves), Kanye settles on the tile The Life of Pablo for his seventh solo album. During an interview on Big Boy's radio show, the Chicago artist calls the LP "a gospel album with a whole lot of cursing."

The album comes out later that month and features the gospel-tinged tracks "Ultralight Beam" and "Father Stretch My Hands Pt. 1." Kanye even hints at the album's title referencing the biblical figure Paul.

"Ultralight Prayer"

March 2016

A month after the release of The Life of Pablo, Kanye releases the song "Ultralight Prayer," which is essentially a remix of "Ultralight Beam" with more contribution from gospel singer Kirk Franklin and his group, The Family.

London Church Uses Kanye Lyrics as Inspiration

May 2016

St. Andrews Church, a church in Hornchurch, London, puts Kanye lyrics on its marquee for inspiration. The place of worship uses the lines, "You're not perfect, but you're not your mistakes," from West and Paul McCartney's 2014 collab, "Only One."

Kanye "False Idol" Statue Pops Up in Hollywood

February 2017

An art installation titled "False Idol" by artist Plastic Jesus pops up in Hollywood, Calif. The statue depicts Kanye West as Jesus crucified in the theme of an Oscar award.

Rodin Eckenroth, Getty Images

Rodin Eckenroth, Getty Images

Kanye Reconnects With Jesus Christ

December 2018

"You have to see and feel how happy I am and how strong my family is," he writes on Twitter. "We are even stronger because of this through the love and grace of god…I need to speak about how Chance demanding that we record in Chicago reconnected me with my roots and also my faith in Jesus Christ."

Kanye Starts Sunday Service

January 2019

Kanye begins the first of what would become his weekly Sunday Service rehersals. 'Ye's wife Kim Kardashian shares video of the jams sessions on her Instagram Story. The footage shows Yeezy leading a whole choir in gospel renditions of tracks like "Heard 'Em Say," "Father Stretch My Hands Pt. 1," "Lift Yourself," "Reborn" and more.

Kanye and 112 Create Christian Music Together

January 2019

"Kanye being a musical genius, he'll do an album and then scrap it," Slim explains. "Whatever happens, it's something that God wanted to happen."

He adds, "Kanye is in a real good place. We were talking about things that were more spiritual and he's in a real good place right now."

Kanye Performs Sunday Service at 2019 Coachella

April 2019

Kanye takes 'em to church on a special Sunday Service performance at the 2019 Coachella Valley Music and Arts Festival. During the lengthy outdoor set, Kanye and a choir run through a mix of classic gospel tunes as well as many Kanye singles. The rapper also debuts a new track titled "Water."

Kanye Considers Starting His Own Church

April 2019

"Say what you want about Kanye, but he really does want to help people who need support," a source reveals. "He understands brokenness and the need for healing, probably more than most people. He believes in the healing powers of music, but also believes that God can step in and heal people's brokenness and their issues."