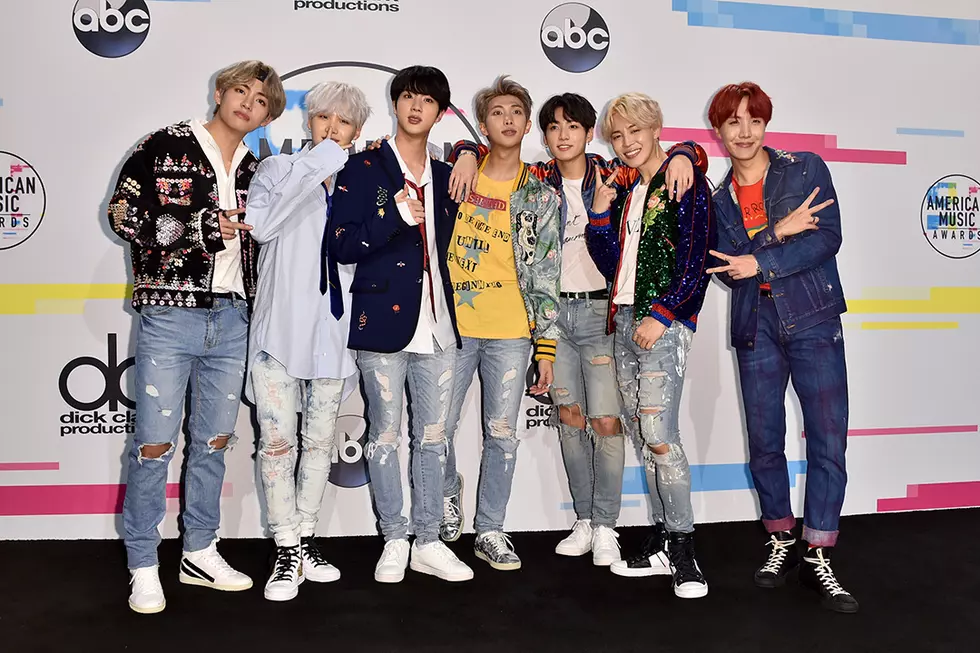 Confused About #BTSOutcast? Here's an Explainer
Alberto E. Rodriguez/Getty Images
Fan fiction inspired by the K-pop sensation BTS went viral on Twitter over five days, as a user created an interactive horror story.
The tale unfolded via screenshots of fabricated text messages between members of the Korean boy band as fans voted in Twitter polls for what would happen to the characters next.
The plot —created by Twitter user @flirtaus — follows one member of the group, Suga, as he plays a horror-themed video game called "Outcast" that's filled with his fellow bandmates as missing teenagers.
The goal is to survive in the game for a certain number of nights. To simulate this, the author updated the "alternate universe" story in real time for five nights.
The game started Jan. 3 on the account with no followers. By Wednesday, the account had 420,000 followers. The #BTSOutcast hashtag trended worldwide.
Eliza Baker, 17, of Jupiter, Fla., has been listening to BTS since just summer 2017 and read all of "BTS Outcast" as it updated live. She found the story when it began to blow up on Twitter and started following the @flirtaus account when it had under 50,000 followers.
"I don't think that any other fandom could have done this just because BTS's fandom and impact is so widespread that they can make things trend anywhere just because there's an abundance of fans," she said of the story's rapid success. "It literally took off in two hours."
BTS members, highly active Twitter users, have yet to comment on the story, but the author continues to post bonus information about the story after ending it on night 5.
The band is gaining popularity in the United States, performing on the American Music Awards and Dick Clark's New Year's Rockin' Eve,' as well as shows hosted by Ellen DeGeneres and Jimmy Kimmel, among others.
Their song "DNA" hit the Billboard Hot 100.
Copyright © 2018 United Press International, Inc. All Rights Reserved