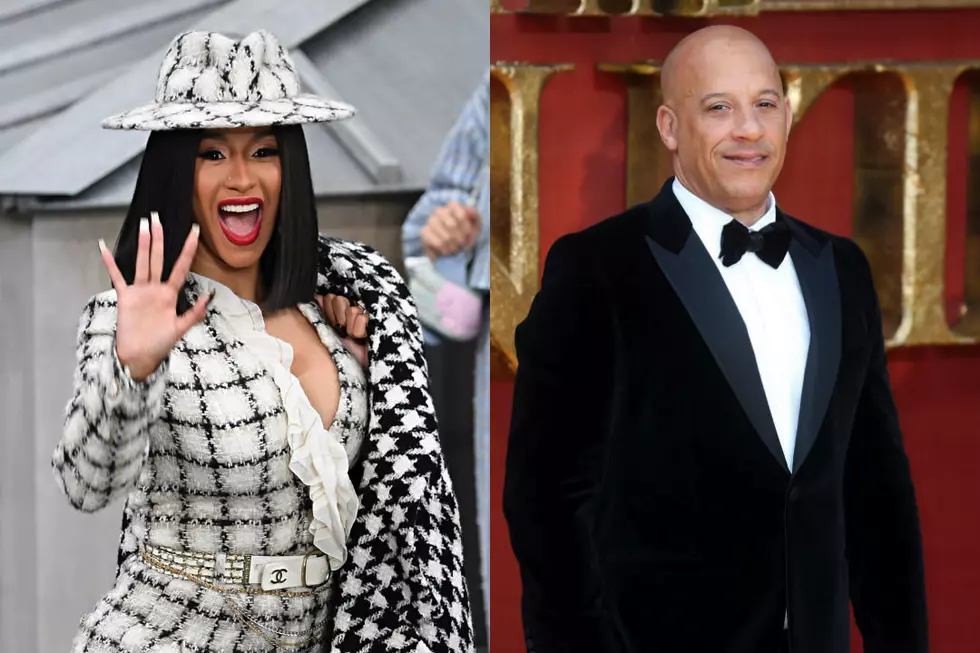 Cardi B Appears in Fast & Furious 9 Movie
Pascal Le Segretain / Chris Jackson, Getty Images (2)
It looks like Cardi B is expanding her acting portfolio.
On Tuesday (Oct. 22), Vin Diesel jumped on his Instagram account to give an update on the next entry into the Fast & Furious film franchise, and in doing so, he might have revealed that the Grammy Award-winning rapper has joined the cast of Fast & Furious 9.
In the clip, Bardi, who is wearing a bulletproof vest and matching gloves, appears to be sitting with Diesel on the set. Diesel informs the viewers that he and Bardi have just finished shooting on the last day of filming in the U.K. and both of them are tired but very excited for what's to come with the movie.
"I know I'm exhausted," said Diesel. "We all gave every single thing we could for this movie. Put it all on the table, put it all out there."
"I'm tired, but I can't wait," added Bardi, who more or less confirmed the news by retweeting an Entertainment Weekly article announcing that she joined the cast. "I ain't gonna front, I think this is going to be the best one." She later added, "I need to take a nappy-nap. I'm ready to take my nappy-nap."
Of course, Bardi made her big-screen debut in Hustlers, starring opposite Jennifer Lopez. The film, based on a 2016 article from New York Magazine, follows a group of former strippers who are now out to get revenge on some of their wealthy clients by running up their credit cards. Earlier this month, the movie crossed the $100 million mark at the box office.
As for Fast & Furious 9, the movie is set to hit theaters on May 22, 2020, according to Diesel.
Check out Cardi B and Vin Diesel on the set of Fast & Furious 9 below.
See 25 of the Best Hip-Hop Album Intros Since 2000