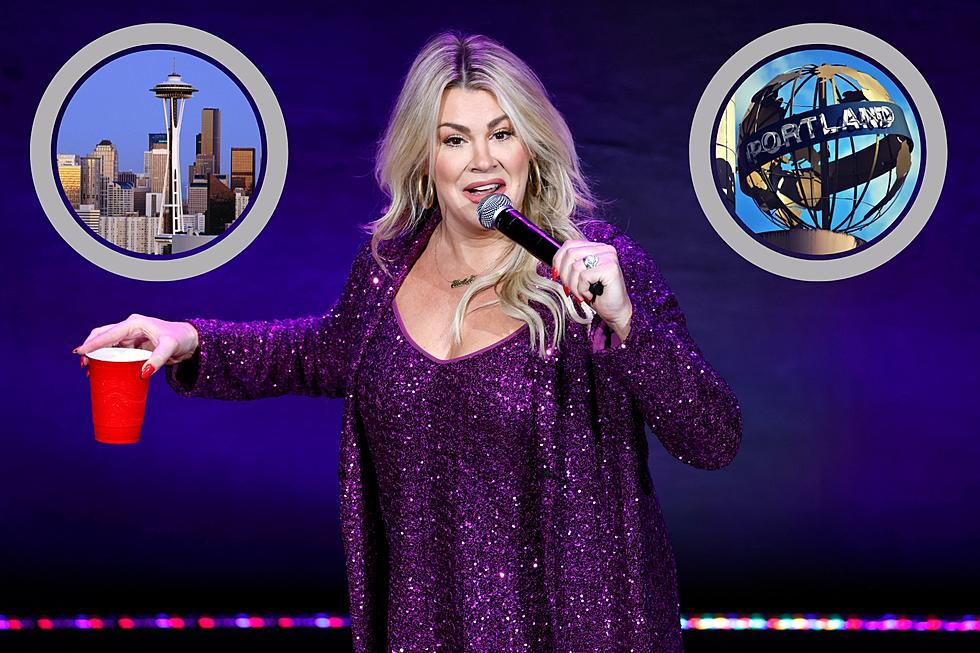 Comedian Heather McMahan Loved by Her Fans in Seattle & Portland
Getty Images, Canva
She's a social media sensation, a hilarious stand-up comic, an actress, and a soon-to-be television star.
Speaking of stars, Heather McMahon's star is rising at a very rapid pace, and the rest of the world had better hang on for dear life.
Heather McMahan Headed for Superstardom and Her Legion of Fans Know it
Heather McMahan is a comedian, actress, and social media personality known for her hilarious, relatable, and unfiltered content. She has gained a massive following on social media platforms like Instagram and TikTok, where she shares her unique perspective on everything from pop culture to everyday life experiences.
Her trademark catchphrases and witty commentary have earned her a very loyal and almost rabid fan base, and she has been praised for her ability to make people laugh and forget their troubles. In addition to her online presence, McMahan also tours as a stand-up comedian, and her live shows are known for their high energy and irreverent humor.
Heather McMahan Causes the PNW to Erupt with Laughter in Seattle and Portland
Heather McMahan's target audience seems to be largely made up of millennial women. I can now attest to this, as my daughter, who is one of those millennial women, got me hooked on Heather a couple of years ago and I've since followed her on Instagram and Tik Tok. So when my daughter surprised me recently with tickets to see Heather in her 'Comeback Tour' show at Seattle's Moore Theatre, I was excited. Adding to that excitement was the VIP post-show meet-and-greet passes my daughter splurged on. (I raised her right)
The house at the Moore Theatre was packed with screaming and enthusiastic fans. Most of these fans fit the profile, and many were dressed up for the occasion. I haven't seen that much leopard print since watching The Flintstones. The night before she had played to another raucous crowd in Portland, Oregon, and when she left Seattle she headed for Vancouver, BC.  At 61, I was likely the oldest person in the building, and during the VIP talk-back session, I was the only male too.
So, would I recommend seeing Heather live? Absolutely. She was fantastic. High energy, putting on a nearly two-hour stand-up show. By the way, that talk-back session for VIPs after the show was awesome. I was imagining the usual herd of fans stepping up, getting an autograph, taking a photo with the star, and then being led out the heck out of there.
That's not how Heather rolls. Instead, after changing into some more comfy clothing and grabbing a bottled water, Heather comes back out onto the front edge of the stage, sits down, and answered questions up close and personal for 45 minutes. Everyone got an autographed poster and many took photos with her. She was so authentic, and funny, and seemed genuinely appreciative in spite of how exhausted she must have been as a result of her jam-packed touring schedule.
Some of her humor is - no - all of her material is unfiltered and if you're the type who cringes if salty language or expressions are used, it might not be a show for you. But Heather is an amazing talent and she isn't about just saying something shocking for the sake of saying something shocking. She strikes me as the kind of performer who gives you what she's thinking at that moment and doesn't mince words. Kind of like what a friend might do.
That's perhaps why her fans love her so much, she's like that crazy, hilarious friend who keeps you laughing, even through hard times. She has shared with her fans the grief that she worked through after losing her father to cancer. We heard from fans during the talk-back session who had experienced similar circumstances and they felt Heather had helped them through their grieving process.
She's already back on the East Coast and will be touring until mid-June when she performs at Radio City Music Hall. Then, as she promised one of her concerned fans who told her to make time for herself, she's going to go home, and not come out of the house until the end of July. Watch for Heather to host one or two television shows that are in the works. Check out some pictures below, and watch the video of her appearance on the Howard Stern Wrap-Up Show.
Heather McMahan Gallery of Pics
Got a news tip? Email us here.
MOST POPULAR STORIES:
MT ST HELENS