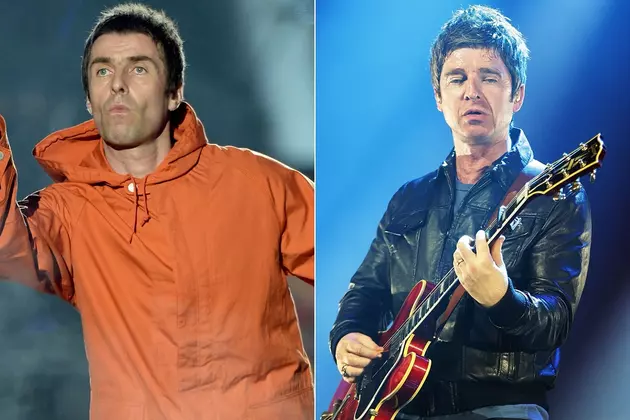 Liam Gallagher Calls Brother Noel a 'Sad F—' for Skipping One Love Manchester Show
Handout / Mark Metcalfe, Getty Images
Despite his earlier prediction that he wouldn't be performing, Liam Gallagher showed up to play at the One Love Manchester benefit on June 4 — and he's disappointed that his brother and fellow Oasis vet Noel Gallagher wasn't there too.
"I don't think so," Liam shrugged in response to a BBC interviewer's question about his attendance at the event, which was put together to benefit victims of the May 22 bombing at an Ariana Grande concert in the city. "I mean, I'm up for it, but I think we've got a gig somewhere."
Gallagher's change of heart was made apparent when he appeared onstage to join Coldplay for a rendition of the Oasis song "Live Forever" — one of two Oasis covers presented by Coldplay, the other being a performance of "Don't Look Back in Anger" with Grande. Evidently overcome with emotion after the show, he took to Twitter to praise the "pure love vibrations" from an amazing night...and then lay into his brother for deigning not to appear.
Apologizing on Noel's behalf for his absence, Liam described himself as "very disappointed" and told the city to "stay beautiful stay safe" — a fairly benign swipe given the brothers' long history of public feuding. But he was just getting warmed up.
Noting that his brother was "out of the f---ing country" during the show, Liam dismissed the logistical concerns, adding, "weren't we all, love ... get on a f---ing plane and play your tunes for the kids you sad f---."
The latest intra-Gallagher flareup comes during a period of seeming rapprochement between the two, and would seem to pose problems for any potential Oasis reunion — as one fan jokingly pointed out. But Liam quickly made it clear that getting Oasis back together isn't his main concern.
Reached for comment by the Independent, a rep for Noel Gallagher declined, simply reiterating a statement from before the event that made it clear he was "out of the country on a longstanding family trip" and "very supportive of the event and wishes everyone huge success on the day."
Oasis Albums Ranked in Order of Awesomeness