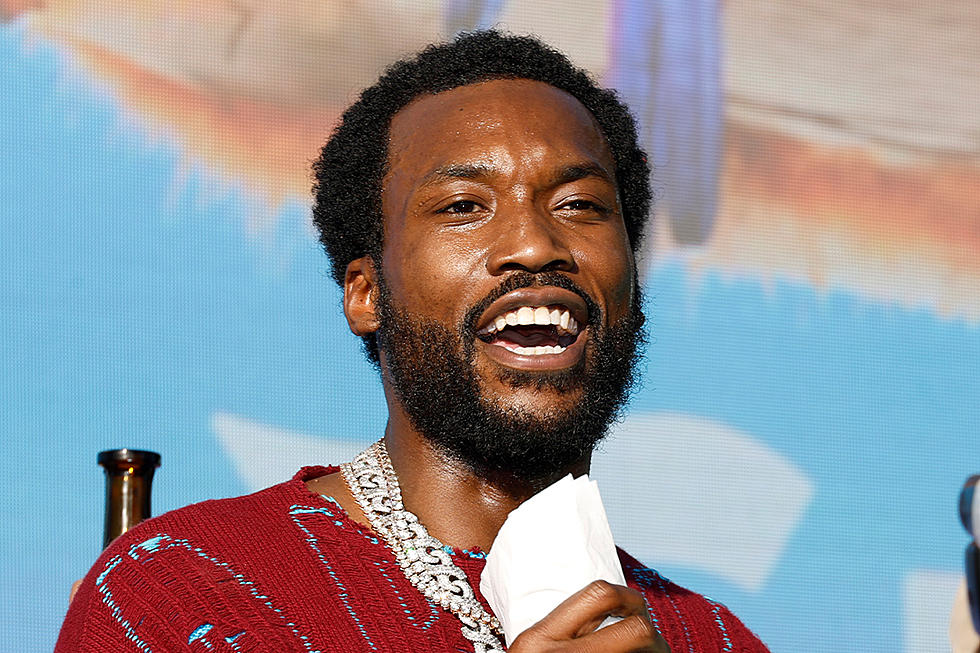 Meek Mill Posts Photo in Front of Toilet After Drinking Too Much, Responds to Internet Trolls
Mike Coppola/Getty Images
Meek Mill is responding to internet trolls after posting a photo of himself in front of a toilet from a night of drinking too much.
Meek Mill Posts Photo in Front of Toilet After Drinking Too Much
In the early hours of Tuesday (July 4), seemingly after celebrating the Fourth of July at Michael Rubin's A-list all-white party in the Hamptons, Meek Mill hit up his Instagram Story to let his 23 million followers know that he had been throwing back more than a few drinks. The Philadelphia rapper posted a photo of what appears to be himself in front of a toilet on the bathroom floor along with the caption, "Too much liquor SMH."
Fans Roast Meek Mill for Posting Drunk Toilet Photo
After screenshots of Meek Mill's since-expired IG Story began to circulate, social media users began to flame the Flamerz 5 MC with remarks that likely didn't do much to ease Meek's hangover.
"I've said it before and I'll say it again," one person tweeted while sharing Meek's toilet photo. "Meek Mill would be a top 5 rapper if he never had social media."
Another chimed in: "Meek Mill's brain needs to be studied."
"Meek Mill is not a real person," another mean tweet reads.
Meek Mill Responds to Internet Trolls After Posting Drunk Toilet Photo
After having time to recover for most of the next day, Meek Mill returned to social media to address those who took umbrage with the photo he posted following the boozy celebration of our nation's independence.
"We have so much influence they trying to use Small internet campaigns to sway the peoples perception of artists," Meek Mill tweeted on Tuesday evening (July 4). "We are basically our own media bases now and we can say what we want at will in front of millions and they don't feel that."
In a follow-up tweet Meek continued: "Anything I post they try to amplify it and make me look stupid. I wasn't created on the internet and I know they got some of y'all in a trans threw social perception. That's why content creators win because lead the narrative."
Meek Mill Is Very Opinionated on Social Media
Meek Mill has used his social media platforms to express his opinions on many topics in recent months.
After former NFL wide receiver Travis Rudolph was acquitted of murder charges last month, the Philly-bred rhymer considered the verdict a "blessing" and encouraged Rudolph to start a documentary series. Just two weeks later, Meek Mill used Twitter to advocate against people tearing down YK Osiris when footage of YK kissing Sukihana without her permission stirred up controversy.
See Meek Mill's Photo in Front of a Toilet After Drinking Too Much, More Backlash He Faced and His Response to the Internet Trolls Below
See the Definitive List of Bizarre Tweets From Rappers