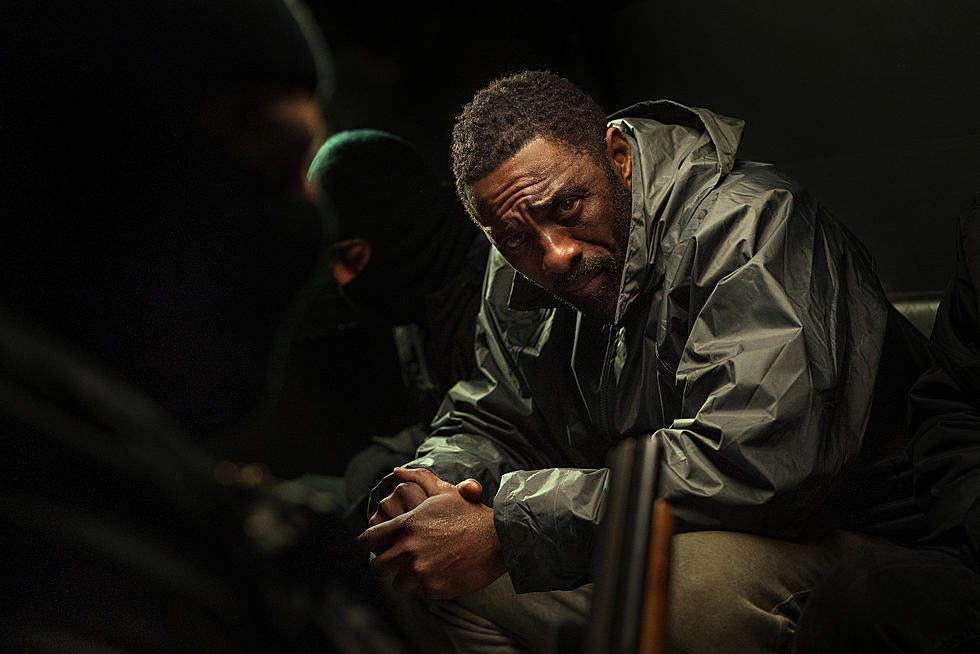 Everything New on Netflix in March 2023
Netflix
If there's an emphasis to Netflix's new programming in March — besides, like, here are dozens of new things to watch, please continue to subscribe — it seems to be a focus on new comedies. Adam Sandler and Jennifer Aniston are back with a sequel to their previous Netflix film, Murder Mystery. And Chris Rock has a new comedy special that will be streamed live as he performs it for the first time on stage in Baltimore; it's the company's first stab at live programming. And there are other new live comedy specials from Bert Kreischer and Mae Martin as well.
On the more serious side of things, Idris Elba returns as John Luther in Luther: The Fallen Sun, a continuation of the hit crime series. And there are more new episodes of You, Shadow and Bone, and The Kingdom coming as well. Plus, there are documentaries on the mystery around Flight MH370 and the incident in Waco, Texas between the U.S. Government and the Branch Davidians.
Here's everything coming to Netflix in March:
Avail. 3/1/23
Cheat -- NETFLIX SERIES
Equal parts brains and blagging, this quiz show expects and encourages contestants to cheat their way to a cash prize. The one rule? Don't get caught!
Tonight You're Sleeping with Me -- NETFLIX FILM
Stuck in a passionless marriage, a journalist must choose between her distant but loving husband and a younger ex-boyfriend who has reentered her life.
Wrong Side of the Tracks: Season 2 -- NETFLIX SERIES
When his teenage granddaughter falls victim to the drug dealers overtaking his neighborhood, a fed-up war veteran takes matters into his own hands.
Big Daddy
Burlesque
Easy A
Forged in Fire: Knife or Death: Season 2
The Hangover
The Hangover: Part II
The Hangover: Part III
Little Angel: Volume 2
Magic Mike XXL
National Lampoon's Animal House
Open Season
Open Season 2
Out of Africa
Rango
Seven Years in Tibet
Sleepless in Seattle
Spirit: Stallion of the Cimarron
The Other Boleyn Girl
Avail. 3/2/23
Framed! A Sicilian Murder Mystery: Season 2 -- NETFLIX SERIES
As the police continue to search for Gambino's killer, Valentino, Salvo and their loved ones somehow become more mixed up in the crime's aftermath.
Karate Sheep -- NETFLIX FAMILY
Keeping a flock of sheep safe from a hungry wolf is hard work! Luckily, Wanda and Trico have a few tricks — and kicks — up their woolly sleeves.
Masameer County: Season 2 -- NETFLIX SERIES
Offering a humorous view of a changing Saudi, this season includes a risky 24-hour mission, a shocking elevator ride and a rocket launch gone rogue.
Monique Olivier: Accessory to Evil -- NETFLIX DOCUMENTARY
From 1987 to 2003, Michel Fourniret cemented his legacy as France's most infamous murderer. But his wife was an enigma: Was she a pawn or a participant?
Sex/Life: Season 2 -- NETFLIX SERIES
SEX/LIFE is the story of a love triangle between a woman, her husband, and her past that takes a provocative new look at female identity and desire. We pick up right in the moment of Billie's stunning proposal to Brad which ended the first season, and then ride the emotional fallout which comes in its wake.
This Is Where I Leave You
Avail. 3/3/23
Love at First Kiss -- NETFLIX FILM
Javier can see the future... and he finally knows who the love of his life is. There's just one problem: It's his best friend's girlfriend.
Next in Fashion: Season 2 -- NETFLIX SERIES
Next in Fashion, the high-stakes design competition series that embraces the fun in fashion, is returning to Netflix for a second season. Fashion designer and TV personality Tan France is joined by new co-host, A-list global superstar, supermodel and style icon Gigi Hadid. A group of up-and-coming, incredibly talented designers will compete for the chance to walk away with a prize of $200,000 and the chance to share their designs with the world.
Split the Root
Avail. 3/4/23
Chris Rock: Selective Outrage -- NETFLIX COMEDY
On March 4th, comedy icon Chris Rock will take the stage in Baltimore, Maryland for the first-ever Netflix live streamed global event, Chris Rock: Selective Outrage. The historical show will stream live at 10pm ET/7pm PT.
Divorce Attorney Shin -- NETFLIX SERIES
Driven by a personal tragedy, a pianist-turned-lawyer navigates the complex world of divorce — fighting for his clients to win by any means necessary.
Avail. 3/6/23
Ridley Jones: Season 5 -- NETFLIX FAMILY
New powers, new tools, new adventures! Ridley and the Eyes are doing more than ever before on their mission to keep the museum and its secrets safe.
Avail. 3/7/23
World War Z
Avail. 3/8/23
Faraway -- NETFLIX FILM
After inheriting a house on a Croatian island, a woman embarks on a spur-of-the-moment trip that reignites her joy in life and opens a door to new love.
MH370: The Plane That Disappeared -- NETFLIX DOCUMENTARY
In 2014, a plane with 239 people aboard vanishes from all radar. This docuseries delves into one of our greatest modern mysteries: Flight MH370.
Avail. 3/9/23
You: Season 4 Part 2 -- NETFLIX SERIES
Starting anew in London, Joe vows to bury the past and be his best self. But on the rocky road to redemption, a new obsession starts to take hold.
Avail. 3/10/23
The Glory Part 2 -- NETFLIX SERIES
Years after surviving horrific abuse in high school, a woman puts an elaborate revenge scheme in motion to make the perpetrators pay for their crimes.
Have a nice day! -- NETFLIX FILM
A retired radio host bags groceries to earn money to attend his former employer's anniversary party, where he hopes to reunite with the love of his life.
Luther: The Fallen Sun -- NETFLIX FILM
Haunted by an unsolved murder, brilliant but disgraced London police detective John Luther breaks out of prison to hunt down a sadistic serial killer.
Outlast -- NETFLIX SERIES
A raw survival competition series where 16 lone wolves must outlast each other in the Alaskan wilderness in an attempt to win 1 million dollars. There is only one rule in this cut throat game: they must be a part of a team to win.
Rana Naidu -- NETFLIX SERIES
Rana Naidu can solve any problem in Bollywood. But when his father is suddenly released from prison, the one mess he can't handle may be his own.
10 Minute Workouts : Volume 2
20 Minute Workouts : Volume 2
30 Minute Workouts : Volume 2
Abs & Core Volume 1
Bodyweight Burn : Volume 2
Fire & Flow with Tara & Xochilt Volume 1
Fitness for Runners Volume 1
High-Intensity Training : Volume 2
Ignite & Inspire : Volume 1
Kick Off with Betina Gozo : Volume 1
Lower-Body Workouts Volume 1
Upper-Body Workouts Volume 1
Yoga Volume 1
Yoga with Xochil : Volume 1
Avail. 3/14/23
Ariyoshi Assists -- NETFLIX SERIES
He's usually the host; but this time, Ariyoshi lets a rotating cast of celebrities be the MC of the show while he claims the role of bemused assistant.
Bert Kreischer: Razzle Dazzle -- NETFLIX COMEDY
Shameless — and shirtless — as ever, Bert Kreischer spills in a riotous set on bodily emissions, being bullied by his kids and the explosive end to his family's escape room outing in his newest Netflix comedy special, Razzle Dazzle.
Avail. 3/15/23
The Law of the Jungle -- NETFLIX SERIES
In the middle of the jungle, twelve athletes must work as a team, or sabotage each other for a cut of a jackpot. A fierce competition, both mentally and physically, where every player has their price.
Money Shot: The Pornhub Story -- NETFLIX DOCUMENTARY
Featuring interviews with performers, activists and past employees, this documentary offers a deep dive into the successes and scandals of Pornhub.
Avail. 3/16/23
The Chronicles of Riddick
Kick-Ass 2
Pitch Black
Riddick
Shadow and Bone: Season 2 -- NETFLIX SERIES
On the run after the showdown with Kirigan, Alina and Mal find new allies — and face heartrending choices — in their quest for more mythical amplifiers.
Still Time -- NETFLIX FILM
Dante has a beautiful relationship with his girlfriend Alice, but he has a bad one with Time: absorbed by the many commitments of his daily life, he always arrives late and has the impression that his life is flowing too quickly. The day he turns forty, that impression becomes reality and Dante finds himself jumping forward from year to year, no longer having any control over his life.
Avail. 3/17/23
Dance 100 -- NETFLIX SERIES
To win $100,000, eight choreographers must create increasingly complex routines for an ever-growing number of elite dancers — who are also the judges.
In His Shadow -- NETFLIX FILM
After the death of their father, two half-brothers find themselves on opposite sides of an escalating conflict with tragic consequences.
Maestro in Blue -- NETFLIX SERIES
A musician goes to lead a festival on a scenic island, where he begins an unexpected romance and finds himself entwined in other people's problems.
The Magician's Elephant -- NETFLIX FILM
A determined boy accepts a king's challenge to perform three impossible tasks in exchange for a magical elephant — and the chance to chase his destiny.
Noise -- NETFLIX FILM
After moving his family into his childhood home, a man's investigation into a local factory accident connected to his father unveils dark family secrets.
Sky High: The Series -- NETFLIX SERIES
When her husband dies, Sole decides that the best way to take care of her son is to become a crime boss — even if that means being her father's enemy.
Avail. 3/20/23
Carol
Gabby's Dollhouse: Season 7 -- NETFLIX FAMILY
Gabby and her best pal Pandy Paws meet fairies, find treasure and go on wild adventures inside her super-special dollhouse. Come play and sing along!
Avail. 3/21/23
We Lost Our Human -- NETFLIX FAMILY
There's been a glitch — all the humans are gone! Can you help pampered pet siblings Pud and Ham journey to the center of the universe to fix it?
Avail. 3/22/23
Invisible City: Season 2  -- NETFLIX SERIES
Reawakened in sacred water, a father desperately searches for his daughter, leading him to discover his true nature buried within.
The Kingdom: Season 2  -- NETFLIX SERIES
El Reino will return for a second and final season with an epic battle between evil and good. The show tells the story of the religious leader Emilio Vázquez Pena, who in season 1 was left the presidential front-runner after his running mate was assassinated.
Waco: American Apocalypse -- NETFLIX DOCUMENTARY
This immersive three-part Netflix documentary series is the definitive account of what happened in Waco, Texas in 1993 when cult leader David Koresh faced off against the federal government in a bloody 51-day siege.
Avail. 3/23/23
Johnny -- NETFLIX FILM
After a court order sends him to work at a hospice, an ex-criminal strikes up a friendship with a compassionate priest who changes his life.
The Night Agent -- NETFLIX SERIES
While monitoring an emergency line, a vigilant FBI agent answers a call that plunges him into a deadly conspiracy involving a mole at the White House.
Avail. 3/24/23
Chor Nikal Ke Bhaga -- NETFLIX FILM
A flight attendant and her boyfriend must steal a cache of diamonds to clear an old debt — but the plan spins into mayhem when the plane is hijacked.
Love Is Blind: Season 4 -- NETFLIX SERIES (new episodes weekly)
More single people who are ready to prioritize love over looks hit the pods to flirt, fall, and — if they're lucky — find someone they want to marry.
Avail. 3/28/23
InuYasha: Seasons 4-5
Mae Martin: SAP -- NETFLIX COMEDY
Mae Martin makes their hour-long comedy special debut with SAP, directed by Abbi Jacobson. The award-winning comedian, writer, and actor, best known for their critically acclaimed series FEEL GOOD, reflects on a world off its axis, from a mythical moose encounter to the gender spectrum in "Beauty and the Beast", in this new stand-up special.
Avail. 3/29/23
Emergency: NYC -- NETFLIX DOCUMENTARY
Go from helicopter to hospital with trauma team professionals across New York City as they provide life-saving aid and share their personal stories.
Unseen -- NETFLIX SERIES
A nondescript house cleaner desperately searches for her husband as a shadowy conspiracy dredges up past tragedies and ultimately drives her to murder.
Wellmania -- NETFLIX SERIES
When a health crisis forces Liv to rethink her "live fast, die young" attitude, she jumps into a wellness journey to get better — even if it kills her.
Avail. 3/30/23
Big Mäck: Gangsters and Gold -- NETFLIX DOCUMENTARY
A man is convicted of a robbery he didn't commit and spends nine years in jail. Decades later, he becomes a suspect again — but is he still innocent?
From Me to You: Kimi ni Todoke -- NETFLIX SERIES
Put off by her gloomy demeanor, Sawako has a hard time fitting in — but when an outgoing classmate approaches her, life takes a turn for the better.
Unstable -- NETFLIX SERIES
An introverted son must work for his successful, wildly eccentric father in order to save his dad — and his company — from disaster.
Avail. 3/31/23
Copycat Killer -- NETFLIX SERIES
When a spate of grisly murders throws a city into chaos, a tenacious prosecutor must brace for a cat-and-mouse game against a dangerous manipulator.
Diary of a Mad Black Woman
Henry Danger: Seasons 4-5
Kill Boksoon -- NETFLIX FILM
At work, she's a renowned assassin. At home, she's a single mom to a teenage daughter. Killing? That's easy. It's parenting that's the hard part.
Love Is Blind: Season 4 -- NETFLIX SERIES (new episodes weekly)
More single people who are ready to prioritize love over looks hit the pods to flirt, fall, and — if they're lucky — find someone they want to marry.
Murder Mystery 2 -- NETFLIX FILM
Four years after solving their first murder mystery, Nick and Audrey Spitz (Adam Sandler, Jennifer Aniston) are now full-time detectives struggling to get their private eye agency off the ground when they're invited to celebrate the wedding of their friend the Maharaja (Adeel Akhtar) on his private island. But trouble follows the Spitzes again when the groom is kidnapped for ransom soon after the festivities begin — making each glamorous guest, family member, and the bride herself a suspect.
Teenage Mutant Ninja Turtles: Season 2
The Worst Netflix Movies Of 2022
Netflix releases so many movies every year, they can't all be classics.