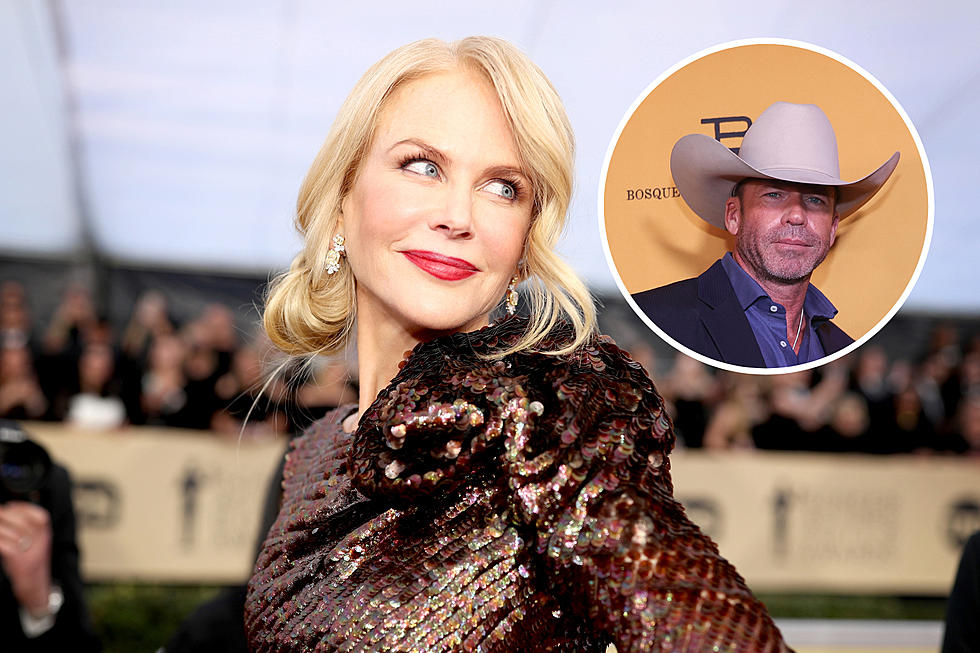 'Yellowstone' Creator Taylor Sheridan Teams With Nicole Kidman for New Show 'Special Ops: Lioness' [Trailer]
Omar Vega/Christopher Polk, Getty Images
Yellowstone co-creator and writer Taylor Sheridan has teamed with Nicole Kidman for an upcoming new show on Paramount Network titled Special Ops: Lioness, and a trailer indicates the much-anticipated new show will thrill audiences with its drama and intrigue.
According to IMDb, Special Ops: Lioness stars Zoe Saldana as Joe, who "attempts to balance her personal and professional life as the tip of the spear in the CIA's war on terror. She enlists Cruz, a Marine Raider, as an undercover operative in the Lioness Program."
Laysla De Oliveira plays Cruz, and the cast also includes Kidman in the role of Kaitlyn Meade, while Morgan Freeman plays Edwin Mullins. Michael Kelly plays Donald Westfield, and the cast also contains some veterans from Sheridan's Yellowstone franchise: Dave Annabele (Lee Dutton, Yellowstone Season 1) plays Neil, while LaMonica Garrett (Thomas from 1883) plays Tucker and James Jordan (Cookie on 1883, livestock agent Steve Hendon on Yellowstone) as Two Cups.
IMDb reports that the show is based on a real-life military program.
"The Lioness Program, overseen by Kaitlyn Meade (Kidman) and Donald Westfield (Kelly), enlists an aggressive Marine Raider named Cruz (De Oliveira) to operate undercover alongside Joe among the power brokers of State terrorism in the CIA's efforts to thwart the next 9/11," according to the series description.
Special Ops: Lioness is set to debut on Paramount Network's streaming service, Paramount+, on July 23, with new episodes arriving each week until it runs through its eight-episode season.
The network has released a teaser trailer for the show:
PICTURES: See Inside Keith Urban + Nicole Kidman's Stunning NYC Condo
Keith Urban and Nicole Kidman paid $3.5 million for an approximately 1600-square-foot, two-bedroom, 2.5-bathroom condo in the upper-crust Tribeca area of Manhattan in New York City in 2020. The luxury unit is located inside of the famous clock tower building in Tribeca, which developers acquired for $160 million in 2013. The building previously housed the New York Life Insurance Company, and the developers converted the 400,000-square-foot building into luxury condos in 2018.
Photos at the
building's website
show a spectacular array of amenities available to residents, including rooftop gardens, an indoor pool, a fully-equipped fitness center, dining areas and more. According to reports, one of the features that attracted Urban and Kidman to the building is a "sky garage" that allows residents' cars to be hydraulically lifted to their units, which lets the high-profile couple avoid the prying eyes of paparazzi.
Pictures: Keith Urban, Nicole Kidman Misbehave On the 2023 Oscars Red Carpet
Keith Urban and Nicole Kidman could hardly keep their hands off one another while walking the red carpet at the 2023 Academy Awards on Sunday (March 12) in Los Angeles. Kidman was a presenter during the Oscars.
Pictures: Keith Urban + Nicole Kidman at the 2023 Met Gala
Country singer Keith Urban and his wife, actor Nicole Kidman, attended the 2023 Met Gala in New York City on May 1. The couple is seen arriving in black tie attire for the annual celebrity event.