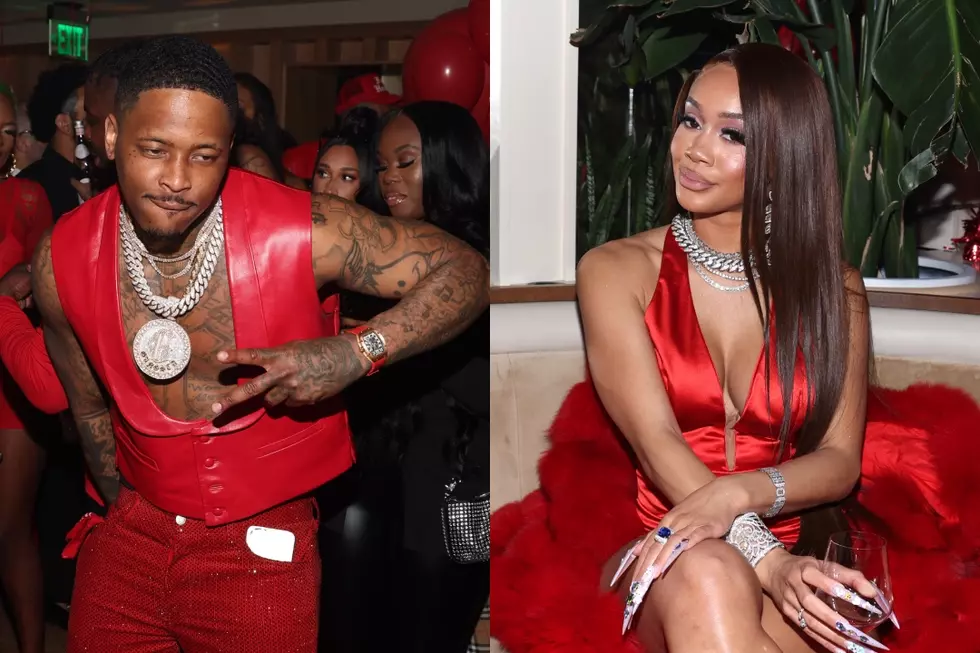 Jerritt Clark/Getty Images (2)
YG and Saweetie have sparked dating rumors.
Recently, pictures and videos that have surfaced have people wondering if the Cali rappers are actually an item. On Monday (April 17), both YG and Saweetie were spotted at LaLa's restaurant in Indio, Calif at the same time. Saweetie wore a scarf over her head and big sunglasses as she posed for a photo at the eatery. The image was taken by a restaurant employee. YG was captured on video at the same restaurant.
This moment comes after they were spotted together at an event appearing to get close on March 5 following Rolling Loud California performances. A few days later, on March 8, Saweetie attended YG's all-red birthday party at Melrose Place in Los Angeles.
Social media has been sounding off about speculation of YG and Saweetie possibly being a couple.
"Saweetie and yg i'm here for it," one Twitter user posted.
"If it's true that YG is with saweetie.. imma be mad. She wanna be hood so bad," another post on the topic reads.
"Y'all hating but when Saweetie & YG pop out, that picture gone be so FLY," someone else tweeted.
Both Saweetie and YG have been in high-profile relationships in the past. YG dated singer Kehlani back in 2019, before they split the following year. Saweetie was in a long-term relationship with Migos rapper Quavo from 2018 to 2021. They broke up in March of 2021. Video surfaced of Saweetie and Quavo getting into an elevator altercation a short time later. Saweetie was also rumored to be dating Lil Baby a short time after the split with Quavo. There was also speculation that she cheated on Quavo with Offset. All the rumors have been denied by Saweetie and Lil Baby. Last month, she revealed her celebrity crush is Lil Nas X.
See the Posts That Have Sparked YG and Saweetie Dating Rumors and Reactions Below
See Rappers' Real Names