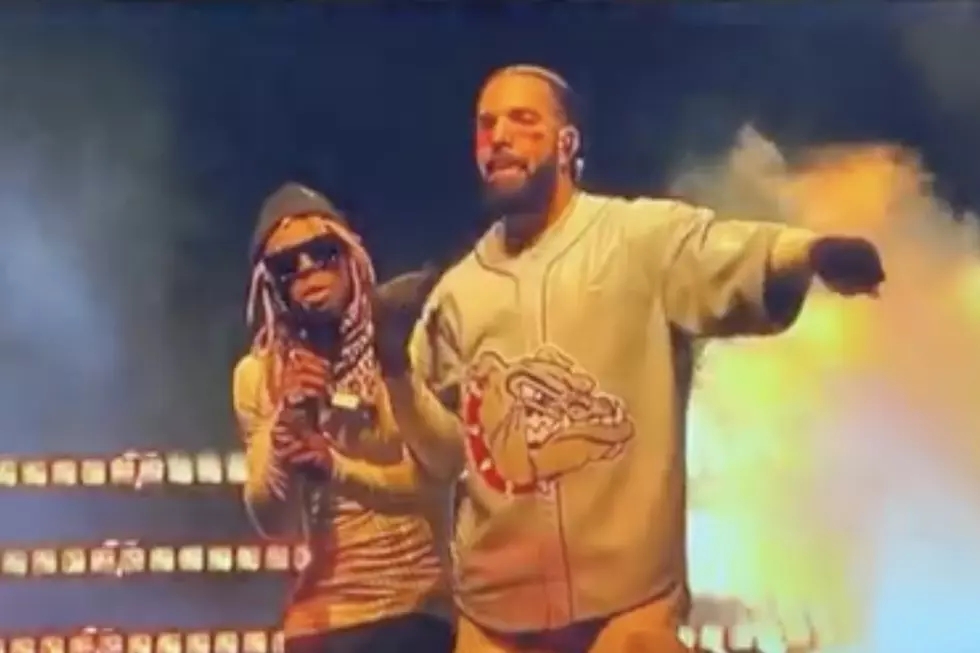 Drake Brings out Lil Wayne, 21 Savage, GloRilla, Lil Uzi Vert During His Dreamville Set – Watch
theshaderoom/Instagram
Drake brought out Lil Wayne, 21 Savage, GloRilla and Lil Uzi Vert during his headlining set at the Dreamville Fest.
On Sunday night (April 2), Drake brought his own music festival to the stage at the 2023 Dreamville Festival in Raleigh, N.C. Not only did Drizzy perform his classic songs, but he also invited some of his friends to rock the mic as well.
First was GloRilla who performed her viral hit "FNF (Let's Go)," followed by Lil Uzi Vert who rapped his two biggest hits: "XO Tour Llif3" and "Just Wanna Rock." Then when Drake rapped his rendition of his 2011 Bay Area-influenced track "The Motto," his former Young Money boss Lil Wayne came out to perform his verse. Then Drake stepped back and allowed Weezy to perform the Swizz Beatz-assisted song "Uproar" and his 2008 hit "A Milli."
Finally, before closing out his set, Drake brought out 21 Savage to perform their Her Loss tracks, "Knife Talk" and "Rich Flex."
After Drake finished his show, Dreamville Records leader J. Cole graced the stage and gave the OVO Sound leader his flowers.
"I'm such a fan and I feel like I am speaking for all of us when I say this, bro," Cole World said in the video below. "We are wow, amazed, blown away by your greatness, bro. It gives a n***a chills. To see you do this s**t at the highest level nonstop and constantly service us and bless us with the soundtrack to our lives. Bro, I'm blown away by your greatness."
Watch some of Drake and his friends' greatness at Dreamville Fest below.
Watch Lil Wayne, GloRilla, Lil Uzi Vert, 21 Savage Perform at Drake's Dreamville Fest Set Below
See Greatest Hip-Hop Duos of All Time