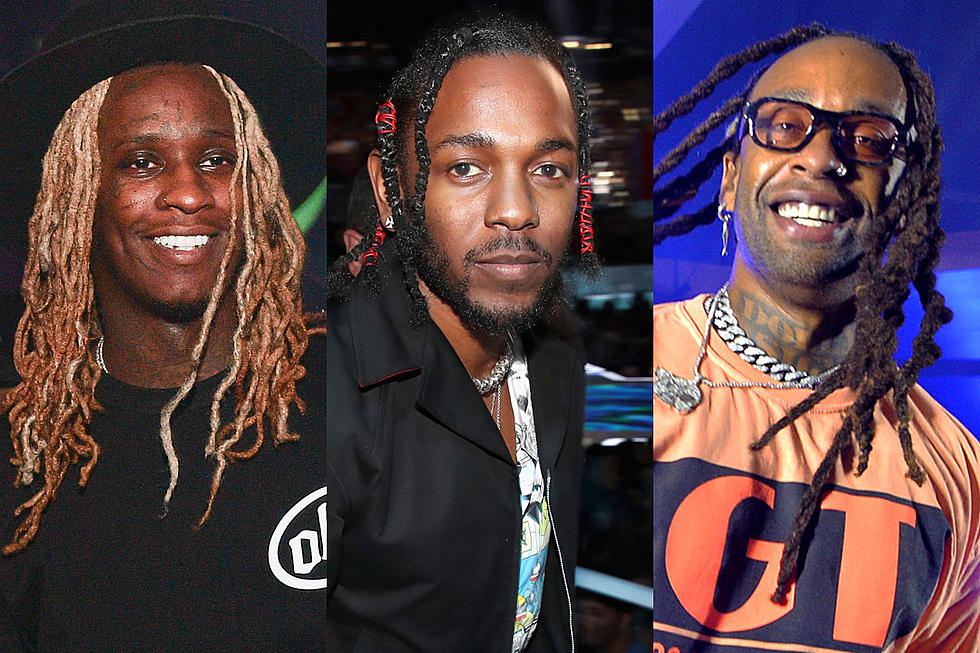 A Look Into Your Favorite Artists' Hidden Features on Hip-Hop Songs
Prince Williams, WireImage / Christopher Polk / MTV1617, Getty Images for MTV / Jerod Harris, Getty Images
Making music is a communal thing. Most artists double as A&Rs who take on the task of recruiting the right people to animate their vision when it comes to a song or album. Sometimes though, the artists that are featured only live in the liner notes of a song or album and not on the actual tracklisting. These hidden, uncredited additions on hip-hop songs often emerge as secret ingredients in the formula.
Dating back to the 2001 release of Jay-Z's catalog classic The Blueprint, Hov tapped Michael Jackson and 1990's singer Chanté Moore for the background vocals on "Girls, Girls, Girls." Opposite his brother Kanye West, Jigga sneakily called on The-Dream a decade later to do the same on their 2011 Watch The Throne ripple "No Church in the Wild."
Aside from singing backdrops, hidden contributions come frequently in the form of ad-libs as well. Childish Gambino's momentous 2018 track "This Is America" features punch-ins from Young Thug, Quavo, BlocBoy JB and Slxm Jimmi. And on the same type of time, Ty Dolla $ign's raspy harmonies help emphasize the pain delivered on Drake's B-side wonder "Jaded," housed on his 2018 album, Scorpion.
Moreover, guest hooks have a history of running deep in rap. As most can remember from hearing Dreamville's Revenge of the Dreamers III album in 2019 for the first time, Kendrick Lamar stole the show on "Under The Sun," gifting Cole's collective with a prophecy-like chorus that extends no further than two bars.
Whether you've peeped game or not, there are a lot more examples to pull from. So today, XXL highlights 20 of them from recent and aged rap songs. Scroll down, read up and listen below.
Kendrick Lamar on "Under the Sun"

J. Cole and Lute Featuring DaBaby

The best song on Dreamville's Revenge of the Dreamers III royal rumble-style composition, released in 2019, was powered by the uncredited vocals of Kendrick Lamar on the album. K-Dot wasn't listed on song on DSPs, but he appeared on hook duty, adding his secret sauce to J. Cole and Lute's song "Under The Sun," which also features DaBaby. Kendrick spits the most quotable part of the record, accompanied by the "lil' bitch!" ad-lib that's been favored since the good kid, m.A.A.d city slowburn "Money Trees."

"I woke up for some money, aye, lil' bitch/Too many opps in here, tell me who you with, aye," Kendrick raps.

Most times, a quick appearance has fans wishing that there was a full verse. But in this case, those two lines were just enough.

Young Thug, 21 Savage, Quavo and More on "This Is America"

Childish Gambino

Though it wasn't billed as such, Childish Gambino's "This Is America" was a team effort. The 2019 Grammy Award-winning track markedly features the main "Oh yeah" and background warbling of Young Thug. Accompanying Thugger with a series of "Woos," "Ayes" and everything in between, are the additions of 21 Savage, Slim Jxmmi, BlocBoy JB and Quavo. Their roles are minimal and major at the same time.

Ty Dolla $ign on "Jaded"

Drake

Ty Dolla $ign's roaring ad-libs are in part the reason why "Jaded" is among the best B-side songs of Drake's career. On top of his signature "Ooh yeah," revitalized from the heyday of Jodeci, Ty's in-and-out contributions are used to emphasize Drizzy's harrowing words on the 2018 number. Featuring two dudes who can easily bounce between their player and simp sides, the tag-teaming on "Jaded" is the perfect score for getting in your bag.

Frank Ocean on "New Slaves"

Kanye West

God is the only credited feature on Kanye West's Yeezus. However, delivering one of the best albums of 2013 wasn't a solo mission. On "New Slaves," 'Ye tapped his talented peers to help bolster the sound quality throughout the track. Sure, he's been known to carry an Auto-Tuned note on his own (see 808s & Heartbreak), but not better than Frank Ocean, who takes care of the outro. No pun intended, this one ended on a high note.

Migos on "Apeshit"

The Carters

The 2018 trap hitter "Apeshit," by music's biggest power couple of Jay-Z and Beyoncé, was actually brought to life by the Migos. It's pretty obvious when listening to the track (play this if not.) Like the other Everything Is Love album standout "Boss," cowritten by Ty Dolla $ign, Beyoncé and Jay-Z embraced the cadences and rhythms of the game's hottest acts to create something special. On top of the trio's writing credits, Quavo and Offset's ad-libs were kept for the final version and knowing the popular history of those, helped make this song a certified trunk rattler.

André 3000 on "30 Hours"

Kanye West

Kanye West's 2016 album, The Life of Pablo, is stuffed with introspective records. Without taking away from the rest, none quite rival the song "30 Hours." Once he's done letting his diary-esque verses fly over a hypnotizing and mellow beat, 'Ye calls on André 3000 to coat the outro with his crispy vocals. Simply repeating the title of the song, Three Stacks' contributions are no more than a few words, but those few lines did the trick.

Justin Bieber on "Harder Than My Demons"

Big Sean

For a song about self-transcendence, it's fitting that the newly shaped Justin Beiber helped Big Sean dish out the 2020 track "Harder Than My Demons." Following the celestial chorus, the song's outro is slowed down by the pop phenomenon. As a track that most encompasses the triumphant messages on the 2020 release of Sean's comeback album Detroit 2, the exhale ending provided here was a good and quiet call.

Snoop Dogg and Frank Ocean on "Brotha Man"

A$AP Rocky Featuring French Montana

A lot of A$AP Rocky fans would argue that his Testing album didn't get the credit it deserved upon dropping in 2018. Regardless though, the project's vinyl edition paragon "Brotha Man" should. Over a beat that collides the elements of soul and funk music, Flacko ejects a Def Poetry Jam-style performance, French Montana swoops in smoothly with his singing and the couplet of Snoop Dogg and Frank Ocean contribute their background harmonies to the cypher. More hands in the pot simply lead to more replay value.

Kendrick Lamar on "Show Stop"

Reason

TDE link-ups on wax don't disappoint. The rookie and the vet got the chance to cosign that notion in 2020 on Reason's New Beginnings album track "Show Stop," which features contributions from Kendrick Lamar that are not included on the tracklist. K-Dot doesn't pen a verse, though Reason put in a request for one, but Kung Fu Kenny's persistent "Hol' up" and "Wait, wait" ad-libs pack knockout punches of their own.

ScHoolboy Q on "911 / Mr. Lonely"

Tyler, The Creator Featuring Frank Ocean and Steve Lacy

Housed on the 2017 jewel of an album Flower Boy is the two-part slider "911 / Mr. Lonely." The gang that assisted Tyler, The Creator in puzzling this piece together is Frank Ocean, who's "Chirp chirp" verse emerged as a crowd pleaser, Steve Lacy and Anna of the North, the woman responsible for the eloquent-sounding "Ring, ring." On the second half of the song, ScHoolboy Q, Odd Future member Jasper and A$AP Rocky help decorate the prelude to Tyler's fourth verse. Each performance, no matter how big or small, contributed to this W.

Drake, Alicia Keys, The-Dream and More on "All of the Lights"

Kanye West Featuring Kid Cudi and Rihanna

Even on the low, Kanye West assembled an entire superhero universe for the 2010 release of his My Beautiful Dark Twisted Fantasy album. The horn-guided single "All of the Lights" has credits for Rihanna and Kid Cudi for features. However, there are a dozen artists who also bestowed their vocals to the ambiance. In addition, The-Dream, Alicia Keys, Charlie Wilson, John Legend, Elton John, Tony Williams, Elly Jackson, Fergie, Ryan Leslie, Alvin Fields, Ken Lewis and even Drake help create a tactful harmony throughout the track that's nothing short of amazing.

Khalid on "The Heart Part 4"

Kendrick Lamar

Between the foreshadowing of Kendrick Lamar's lyrical greatness and the unwrinkled beat switches by a notable posse cut of beat builders, "The Heart Part 4" is a top tier deep cut. What may not have been widely known or remembered though is the fact that multiplatinum singer Khalid sprays his scent onto the 2017 track too. Heard mostly in the "Ooh" at the top of the record, he calmly puts up a pleasurable performance in plain sight.

Swae Lee on "Sicko Mode"

Travis Scott Featuring Drake

The credit on the diamond-selling banger "Sicko Mode," dropped in 2018 on Travis Scott's Astroworld album, should be sliced in three ways. Electrifying verses from Travis Scott and Drake make up the meat while Swae Lee's "Someone said" inclusion serves as the transition passage between the track's contrasting layers. The Rae Sremmurd half later turned this low-key moment into a full song, feeding off the two-word power of his quick contribution.

Ty Dolla $ign and Jhene Aiko on "Single Again"

Big Sean

Given his prior track record with Ty Dolla $ign ("Play No Games, "NDK") and Jhené Aiko (the entire Twenty88 album), Big Sean rendering their rhythms for the chorus of "Single Again" was probably an easy decision. The 2019 track about flying solo is supported by the oral cloud's of the premiere West Coast talents. Jointly, they formed the trio that no one knew they needed.

City Girls and Lil Wayne on "In My Feelings"

Drake

The formula of Drake's 2018 viral Scorpion hit "In My Feelings" includes a brain worm hook, a dance craze and Instagram caption-worthy lyrics, like those provided by the City Girls. Following their iconic lines about being more concerned with net worth over Netflix and chill is the commanding voice of Lil Wayne, ideal for Drizzy's homage to New Orleans and the city's bounce music scene. Don't sleep, these hidden features just might be the best part of the record.

The Weeknd on "The Ride"

Drake

Talk about using the voice as an instrument, The Weeknd's performance on "The Ride" by Drake is mystical. The track, freed in 2011, sits at the bottom of Drizzy's Take Care album but at the top of OVOXO collaborations. The Canadian singer isn't credited here like he is on "Crew Love." Nevertheless, his alluring falsettos aided in setting the bar for Drizzy's acclaimed outros.

Kid Cudi on "Gotta Have It"

Kanye West and Jay-Z

If you've wondered who was behind the howling on Kanye West and Jay-Z's Watch The Throne seed "Gotta Have It," look no further than Kid Cudi. The song, released in 2011, employs Cudi's caroling as the main melody in the back of verses and in between punches from the James Brown sample "My Thang." This track is yet another testament that the supergroup officially known as Kids See Ghosts has never failed to craft spellbinding music together.

Jeremih on "With You"

Drake Featuring PARTYNEXTDOOR

Drake and PARTYNEXTDOOR's tropical flavored "With You" ends strongly with the firepower of Jeremih's singing. In fact, the best part of the 2016 Views track are the melodies at the tail end of it. What happens when you combine the sly and effective appearance of a seasoned R&B head, a current king of the genre and a man who has literally perfected a sing-song flow? You get magic like this.

Calboy on "Diana"

Pop Smoke Featuring King Combs

Given the late Brooklyn rapper Pop Smoke's habit of being a studio rat, plenty of artists thought that they would make the cut for his debut album, Shoot for the Stars Aim for the Moon in the summer of 2020—Calboy included. The Chicago rapper actually went on Twitter to announce how pissed he was when they kept his ad-libs throughout the song "Diana" without credit, but his verse wasn't used. However, Cal The Wild rightfully got to pay homage to his homeboy on the "Diana (Remix)" and music video when the deluxe version of the album dropped in late July.

Michael Jackson and Chanté Moore on "Girls, Girls, Girls Part 2"

Jay-Z

Jay-Z's "Girls, Girls, Girls (Part 2)" called on rap legends like Q-Tip, Slick Rick and Biz Markie, R&B singer Chanté Moore plus the King of Pop Michael Jackson to complete the assignment. The honeyed The Blueprint cut, delivered in 2001, lets them rock out on the chorus, neighboring a sample of Tom Brock's incense burn "There's Nothing in This World That Can Stop Me From Loving You" and Crash Box's beatbox joint "High Power Rap." Enlarged even more with the production dexterity of Just Blaze, the combo on this track is just *chef's kiss.*