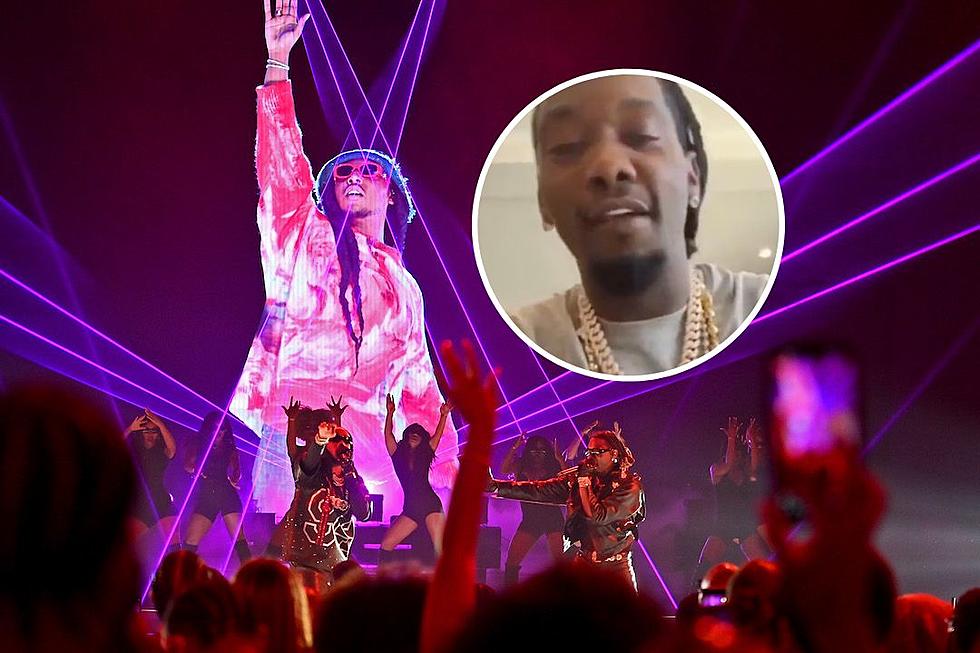 Offset Explains How Takeoff Tribute With Quavo Came Together at 2023 BET Awards
Paras Griffin/Getty Images/akademiks/Instagram
One of the highlights at this year's BET Awards was Offset and Quavo's musical tribute to the late Migos rapper Takeoff. Recently, Offset explained how the tribute with Quavo came together.
Offset Explains Takeoff Tribute at 2023 BET Awards
During an Instagram Live session on Friday (June 30), Offset thanked the fans for their support and detailed how he and Quavo were able to put their differences aside and pull off the tribute to their late fallen comrade Takeoff at the 2023 BET Awards.
"I love all my fans. I love of y'all. We did the BET performance, man. It was iconic, man," he said. "It cleared my soul. Me and my brother Qua, man, we put that together within, like, 16 hours​​​​​​​, like, 15 hours...We do that 'cause we're some real stars. We do this music."
"We the greatest group to ever touch the mic. RIP my brother, Take. We did it for my brother Take. Me and Qua stood tall, brother to brother," he continued. "And I appreciate everybody for supporting. It was a movie, it was a vibe. We needed that for the culture. And yeah, that's how we comin'."
"We did that in 16 hours like real professionals," he added. "When you put the three heads together It's always gon' be cinematic. It always gon' be the truth. It's always gon' be godly."
"Thank god for that moment. We did it for Take. Migos forever—the greatest group to ever do it," he concluded.
Offset and Quavo Honored Takeoff at the 2023 BET Awards
For those who missed it, Offset and Quavo made delivered a heartfelt tribute to Takeoff at 2023 BET Awards at Microsoft Theater in Los Angeles on Sunday night (June 25). The two surviving members of Migos set aside their discord with each other to pay homage to Take, who was tragically shot and killed late last year.
Their surprise tribute performance began with the two rappers onstage dressed in all black as they stand on either side of a beaming spotlight. As a symbolic rocket ship ascends from the stage, a larger-than-life image of Takeoff is revealed at the center of the stage. From there, the duo performed their 2017 classic hit "Bad & Boujee" as large pyrotechnic flames engulf the stage under Takeoff's image.
After their performance, 'Set and Qua each posted a message to their IG pages, with Offset writing, "Do this s**t for the fam cuz this s**t is bigger than me #LL [rocket ship emoji]."
Watch Offset's Behind-The-Scenes Video of How the Takeoff Tribute Happened at the 2023 BET Awards Below
Watch Offset and Quavo's Musical Tribute to Takeoff at the 2023 BET Awards Below
See Every Rapper Who Performed in the Hip Hop 50 Tribute at the 2023 BET Awards