7 New Businesses We'd Like To Fill The Sonic Drive-In Yakima Location
Canva - TSM/Timmy!
When news broke about the Sonic Drive-in closing down last September, many of us were pretty bummed. No one really knew how long it would be closed, nor expected the type of legal trouble that the franchise owner in the northwest was up against. I still had hope that it would re-open. Well, at least until yesterday (12/14). I drove by and saw a man boarding up the windows. Now there are many reasons for someone to do that. The obvious is to help keep people out and to protect against the elements. For those of us feeling that this place is dead, this might as well have been the final nail in the coffin.
Take a look at these pictures to see what has become of the building that was hoppin' and skatin' just four short months ago.
Enough looking back at the past; let's focus on the future. What could be done with that location? After some brainstorming and talking to friends, family members, as well as listeners, we have some pretty good ideas that would fit in nicely with the building and location on the corner of 1st Street and Nob Hill Blvd.
CONCERT VENUE
Of course, the obvious is a concert venue! I know you probably doubt the ability of a Sonic Drive-In to be a great new place for concerts, but it has already proven to work! Two locations (Delaware & New Jersey) have already held their own version of a "Slushee-Fest" in the past couple of months.
STRIP CLUB
Okay, I know I've brought this up before (check that story out here), but I just see potential in a type of Drive-Thru strip club. It worked in Oregon during the pandemic, we could make it with each car stall having it's own private booth being separated by two panes of glass. One for the performer and of course, the car window.
Another Fast Food Chain
Bring in another fast food chain we don't have in Yakima. Might as well, the place is already built for cooking. White Castle, In-N-Out or a Chick-fil-A would fit nicely there.
Multi-Denominational Church
Okay, think of it this way, we set up all the different stalls with the settings from different religions. You're in from out of town, you want to go to church, but where do you go? Sonic Church! Go there, pick your religion, and drive to the appropriate stall. You could either have live sermons or many televisions set up to broad cast which ever faith fits you best.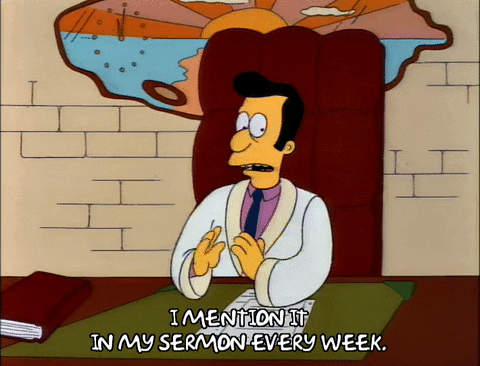 Giphy.com
Car Wash
It has the spacing, so why not. Just replace the light screens with vaccums and pressure washers! I'd go there! (Might have some competition from the other carwash up a ways on Nob Hill, but oh well).
The Drive-In Of The Future
Okay, we all miss drive-in theatres. Well, think of that, only individual stalls, with giant flat screens. I think it would be a win!
Red Cross
Just like how they had the drive-thru vaccine jab spots, I could see this actually being a thing. You pull up into a spot, A phlebotomist comes rolling up (I just want to see phlebotomists on roller skates) and draws your blood. You get a cookie, you are on your way. Yes, might not be the most sterile environment, but at least it's in your own filth in your own car.
What do you think should go into that spot? Tap the App and send in a message letting us know your thoughts. Or if you agree with what we thought. Any news as far as a replacement for that building, or if Sonic will re-open, as soon as we know, we will let you know.
50 Famous Brands That No Longer Exist
KEEP LOOKING: See what 50 company logos looked like then and now
Here are 50 of your favorite retail chains that no longer exist.