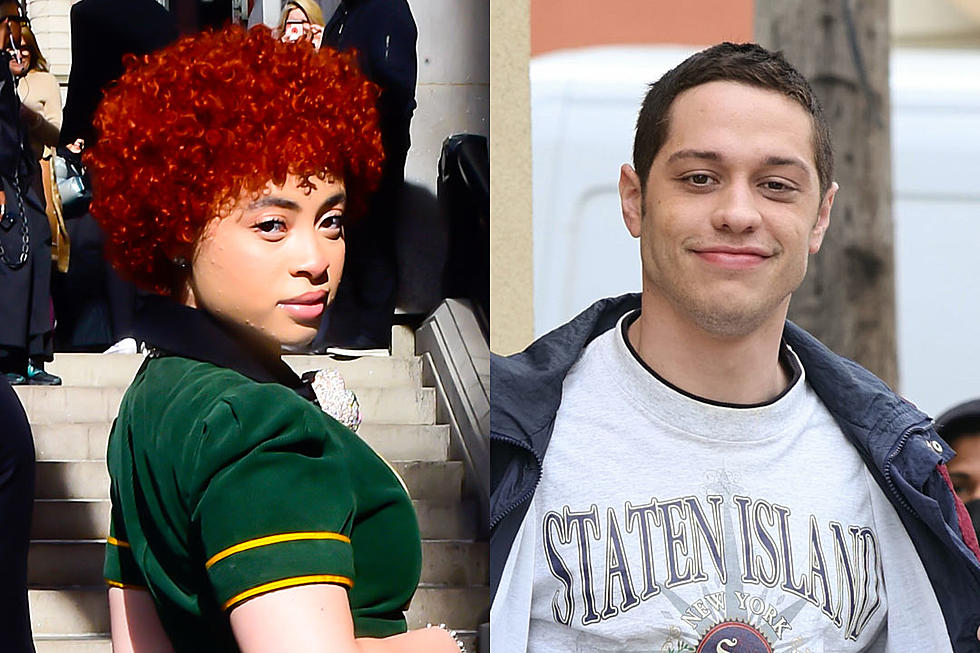 Ice Spice and Pete Davidson Dating?
Raymond Hall/Jose Perez/Bauer-Griffin/GC Images (2)
Are Ice Spice and Pete Davidson dating? A rumor circulating on the internet is placing the rapper and actor together as a couple.
On Monday (Feb. 27), Pete Davidson's name began trending on Twitter, climbing to No. 13 in the U.S., with more than 4,000 tweets containing his name. Many of those tweets included Ice Spice's name as well, as fans of one or the other began sharing the same rumor that the two are dating. Pete is 29 while Ice is 23.
"HE CAN'T KEEP GETTING AWAY WITH THIS," one Twitter user wrote.
"Why I seen someone say Pete davidson got to ice spice??? lord please save her!!" another tweeted.
"The streets are saying Pete Davidson is dating Ice Spice 😭😭 It's not fair," a tweet read.
There are plenty of tweets that throw Drake's name into the mix as well. Last year, Drake flew Ice Spice to Toronto to attend OVO Fest. A video of the two standing near one another but not speaking went viral on the internet last year. While they maintained stoic expressions in the video, fans ran with rumors that Ice looked scared and Drake was seemingly searching around to see who was watching them. Drake and Ice have never dated.
As the rumor of Ice and Pete ran up the tweets today, fans seemed to have mixed feelings about Pete's connection to the rising rapper, who just earned her first top 5 position on the Billboard Hot 100 today when "Boy's a Liar Pt. 2," her collab with PinkPantheress, rose to No. 3. Pete has had public relationships with popular stars Kim Kardashian and Ariana Grande. In the hip-hop community, once Pete began dating Kim in 2021, while she was going through a divorce with Kanye, many fans who were still riding with Ye weren't too fond of the union. Pete even got a tattoo of the initials of Ye's kids on his neck. Kim and Pete called it quits in 2022, after dating for nine months.
So where did the news come from that Ice Spice and Pete Davidson are dating? A meme page on Instagram posted the fake news on Feb. 18. A split photo of Pete and Ice was posted with the caption: "He can't keep getting away with this😭 W or L⁉️ - This is satire. This is not real (thankfully) this is for entertainment purposes only."
Currently, Pete Davidson is dating actress Chase Sui Wonders. According to Ice Spice, she is single.
Find out what the people are saying about the rumor that Ice Spice and Pete Davidson are dating below.
See Fans' Reactions to the Rumor That Ice Spice and Pete Davidson Are Dating
See the Definitive List of Bizarre Tweets From Rappers