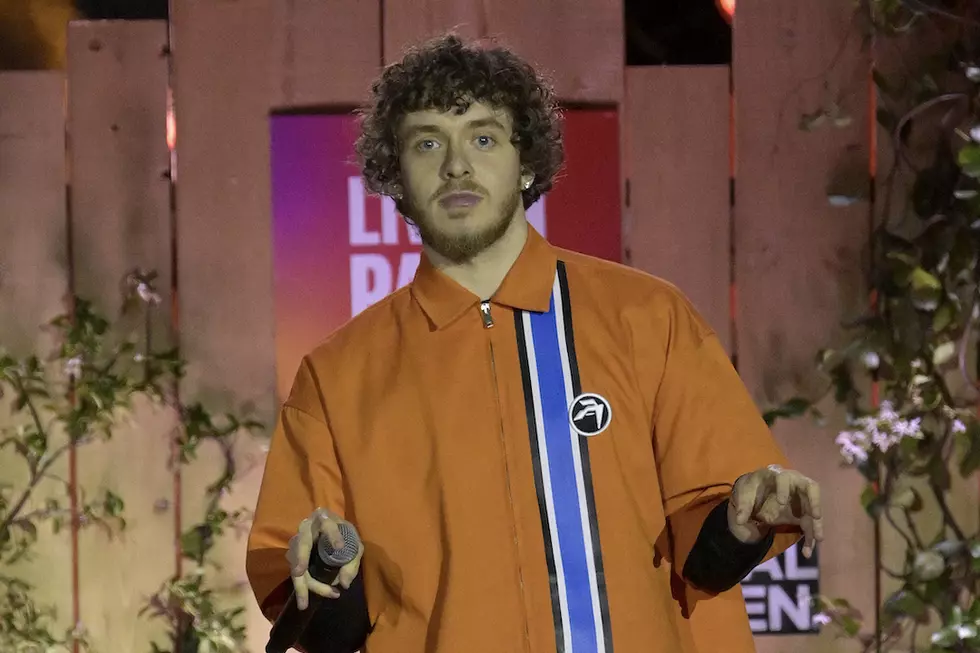 Jack Harlow Receives Awkward Pause From Crowd Unfamiliar With 'First Class' Lyrics at Global Citizen Concert
Kristy Sparow/Getty Images
Jack Harlow may be popular in the U.S. but in Paris, he might not be so well known. During his performance at the Global Citizen Concert in Paris, the Kentucky rapper received an awkward pause when he tried to get the crowd to recite his lyrics to his hit song "First Class."
Jack Harlow Received an Awkward Silence From Crowd at the Global Citizen Concert
On June 23, TMZ posted a video of Jack Harlow performing at the 2023 Global Citizen concert in Paris. In the clip, the 2020 XXL Freshman was performing his No. 1 Billboard Hot 100 hit "First Class," when he tried to get the crowd to rap along with the lyrics to the song.
Jack tried to get the crowd excited by rapping the opening lines of "First Class" in the hopes that they would finish the rest of the lyrics, but to no avail. The 25-year-old rapper looked puzzled as the crowd remained silent. According to TMZ, after the beat dropped, the crowd seemed to remember the song's lyrics and started rapping along.
You can watch Jack Harlow's full performance in the video below at the 3:08:40 mark.
Jack Harlow Boats He's the Hardest White Rapper Behind Eminem
On Jack Harlow's new album, Jackman, the rapper proclaimed on the song "They Don't Love It" that he's the hardest White boy rapping since Eminem.
"Ya boy's strivin' to be the most dominant ever/The hardest White boy since the one who rapped about vomit and sweaters/And hold the comments 'cause I promise you I'm honestly better than whoever came to your head right then/They ain't cut from the same thread like him/They don't study, doin' work to get ahead like him/They don't toss and turn in the f***kin' bed like him," he raps on the track.
If you listened closely, Jack referenced Eminem's 2002 diamond-selling record "Lose Yourself," where Slim Shady rapped, "His palms are sweaty, knees weak, arms are heavy/There's vomit on his sweater already, mom's spaghetti."
While Jack's confidence is through the roof, his claim caused a bit of controversy on social media. Some fans responded on Twitter by naming other White rappers who they believe have more lyrical acumen than the "What's Poppin'" rhymer. Artists like the late Mac Miller, Action Bronson, Lil Dicky, G-Eazy and Machine Gun Kelly (who dissed him in his freestyle song) were mentioned.
Nevertheless, Jack Harlow doesn't seem bothered by the push back from fans.
Watch the Global Citizen: Power Our Planet Live in Paris Concert Below
See the Guide to Rappers Touring in 2023