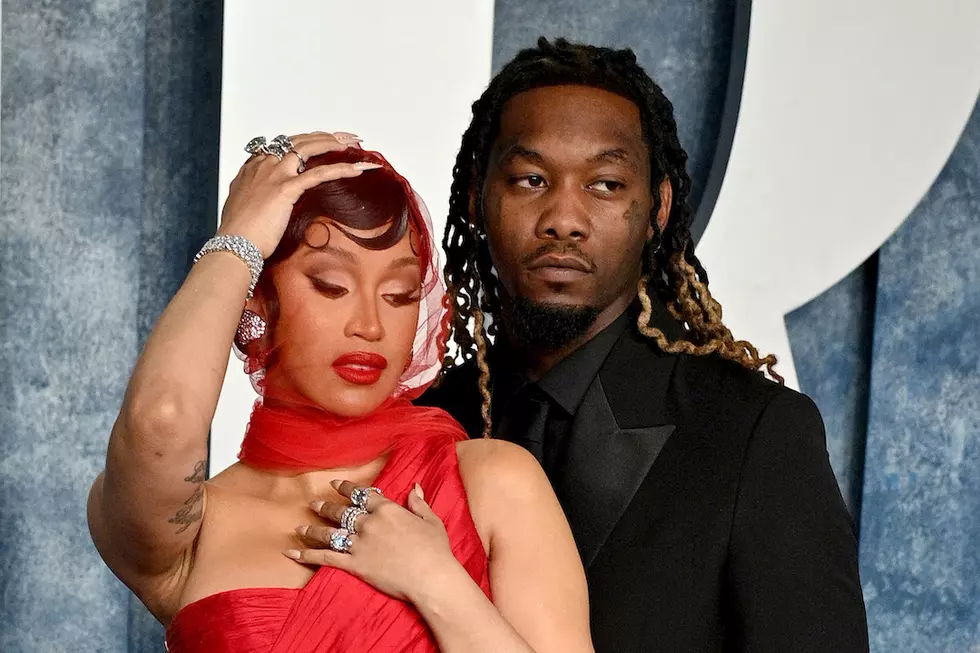 Offset Angry at Someone Trying to Holler at Cardi B in Her DMs, Warns 'I'll Run Into You'
Lionel Hahn/Getty Images
Be careful when sliding into Cardi B's DMs, Offset is watching. The Atlanta rapper recently called out someone who tried to holler at his wife in the DMs.
Offset Gets Angry at Someone Trying to Holler at Cardi B in Her DMs
On Friday (June 23), Offset wrote a stern warning in his Instagram Story at someone who was trying to holler at his wife Cardi B in her DMs. In a since-expired post he wrote, "I seen them dm to my wife ima run into you [blowing smoking emoji] b***h."
In another expired post, it appeared that Offset screenshotted the message the alleged person wrote to Cardi. It read: "Happy B day !! Enjoy your day … don't let none throw you off !! Somebody sent me invitation ion no if it's real or not ! An I be hearing s**t but from me to you 1000 on every aspect from the biggest s**t down to me even dm you !!"
"I'll ever do no cornball s**t r even do none to make your people mad etc !! " the missive continued. "I hate when a mf think ima f*** n***a cause I Really come from a genuine place."
According to a hip-hop gossip page, the alleged person who wrote the message was a rapper.
Offset Is Working on His New Album
Aside from worrying about who is in Cardi B's DMs, Offset is currently working on his second solo album.
Earlier this year, Offset previewed songs from his upcoming project to the editors of Variety magazine. The still-untitled collection reportedly will boast guest features from Future, Latto, Travis Scott, Chlöe Bailey and his wife Cardi B.
During the listening session, the former Migos member reportedly offered, "You wanna hear my last song with Takeoff?"
According to the entertainment industry publication, Offset was beaming and laughing while rapping along to the lyrics of his final track with the late rapper, who he is not biologically related to. Apparently, 'Set recorded the song with Takeoff last summer before his untimely death in November of 2022.
Read More: Cardi B, Offset and Their Kids to Star in Baby Shark's Big Movie
Check Out Offset's Message to a Transgressor in Cardi B's DMs Below
See Cardi B's Three Different Outfits at 2023 Met Gala