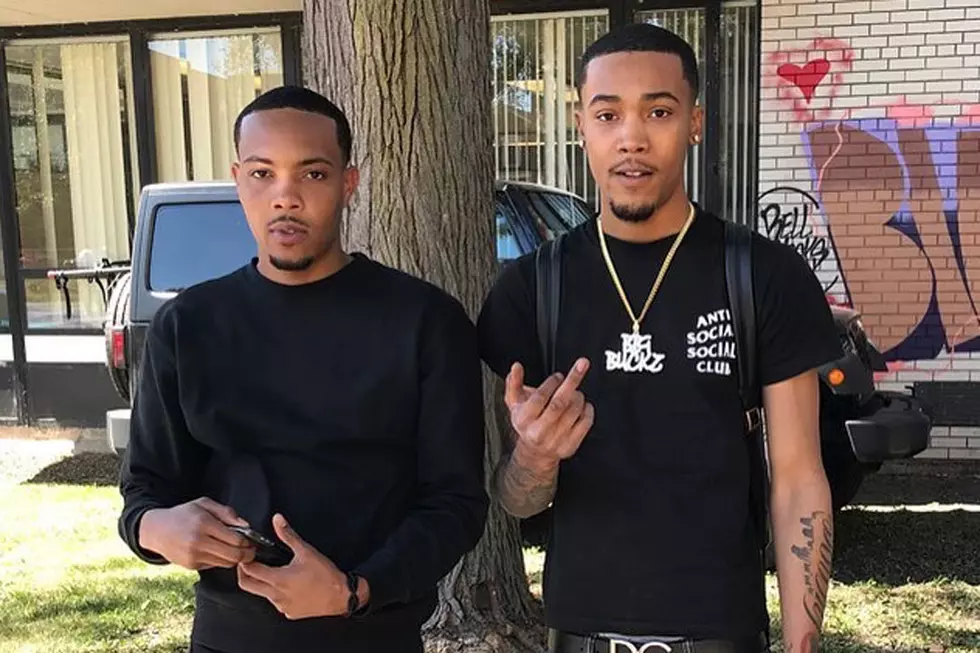 These Rapper Doppelgangers Will Blow Your Mind
hunnitbuckclubbuckz via Instagram
Everyone has a twin out there somewhere.
We've all glared at somebody from afar because their face looked a little too familiar, have been sent off-guard photos of a stranger who could be our "brother" or "sister," or have had phones held up to our cheek because we resemble someone's close friend. With billions of people on the planet, whether the evidence is spot on or comes with a Stretch-level reach, a doppelgänger roams the Earth for all of us, including some of your favorite rappers.
Since these famous faces are often in the media, comparing them happens a lot more than one would expect. Sports world aside though, rappers have "twins" on a more coincidental level in the form of regular everyday people.
Artists like Trippie Redd, and more recently G Herbo, have gone viral for acknowledging and making light of their real-life doubles, joking about the physical coincidences on Twitter and Instagram. It's often these very apps that bring awareness to the hip-hop look-alikes out there, especially with mom vs. dad-type trends that pick up every few months. So, considering the internet's constant infatuation of pinpointing someone's duplicate, XXL scoured through it to highlight a handful of rapper clones that will blow your mind.
Take a look at them below.
Now presenting, as named by Twitter in September, Herb and Ferb. The "rap twin" in question here is MGE Buckz, an up-and-coming rapper from Chicago, Herbo's hometown. Apparently G Herbo didn't know he had a long lost twin either. The former 2016 XXL Freshman rapper tweeted that his father has some explaining to do along with a photo of himself and MGE Buckz at an event Herbo held to help local children with school supplies.

The jokes really did write themselves when Twitter stumbled across this Kanye West look-alike. For days, rap fans on social media referred to this man as Kanye East, reworking song and album titles to fit the narrative of 'Ye's "twin." From the first glance, you can see why this doppelganger picked up so much attention.

If you frequent Twitter and Instagram as much as you should be checking your email or bank account, you've peeped this Trippie Redd clone's popularity increase. Over the last few months, Big 14 himself hasn't tried to deny the comparisons, though kind of humorously disturbing at first glance. Trippie has instead fed into the joke and referred to his guy as his twin.

You can likely walk into any Black cookout and find an OG who looks like Snoop Dogg, but today we found a person for you. This guy resembles the Death Row legend so much that he now brands himself as the certified Snoop look-alike. He even snagged a picture with Uncle Snoop to provide a side-by-side visual of the two.

Tupac Shakur comparisons have to be taken with a grain of salt. Just because a bald Black man has an iced-out nose ring does not mean he looks like 'Pac, but this kid sure does.

Accurate to the caption of this photo, Chance The Rapper's younger brother Taylor Bennett isn't the only clone in the family. They apparently have another distant relative whom you can spot below. If you envisioned a "3" hat on him right now, you could hear the "igh" scream right out of the photo.

Not too long ago, Nicki Minaj gave birth to her first-born child, a son. But before she really had a kid, the Young Money rapper been had sons in the rap game and an apparent daughter as well. This woman surely looks like Onika in her younger years.

This Chief Keef "twin" is spot-on. It's both laughable and amazing how much the two resemble each other. The person in this photo has likely had people run up to them, thinking that they're Sosa. Guarantee it.

This one comes in the form of a person who could be a relative of hip-hop's most revered rapper in the game. The woman pictured here smiling looks like she could pass as Jay-Z's sister. As tight as the rapper and Beyoncé's security is, bet she could sneak into the family reunion with no problem.

You have to have a certain type of swag to be compared to the fallen Pittsburgh MC Mac Miller. Or maybe the exact the same face, like this Wendy's worker does. Rest easy, Mac.

This girl looks so much like Lil Wayne that if she recreated the "A Milli" music video right now, it would instantly go viral. She looks like she could pass as one of Wayne's children. Before Megan Thee Stallion ran off with the word, it's safe to say that this woman was the real Hot Girl to parallel Weezy.

This doppelgänger looked so similar to the City Girls' JT that people on Twitter couldn't distinguish the two at first. The Florida-bred rapper eventually caught wind of the comparisons and in a tweet-and-delete said people need to learn how to separate looks. It's hard to separate how similar these two look though.

If you haven't been lucky enough to catch André 3000 out here playing his flute, you can catch his fake son out here in these streets. 3 Stacks' son Seven has a look-alike "brother" out there.

While this guy doesn't bear a striking resemblance DaBaby in his "before" picture, after cleaning up, there is no denying he could be a convincing stunt double for the former XXL Freshman. Baby on Baby.

We can credit Meek Mill with the discovery of Offset's clone.