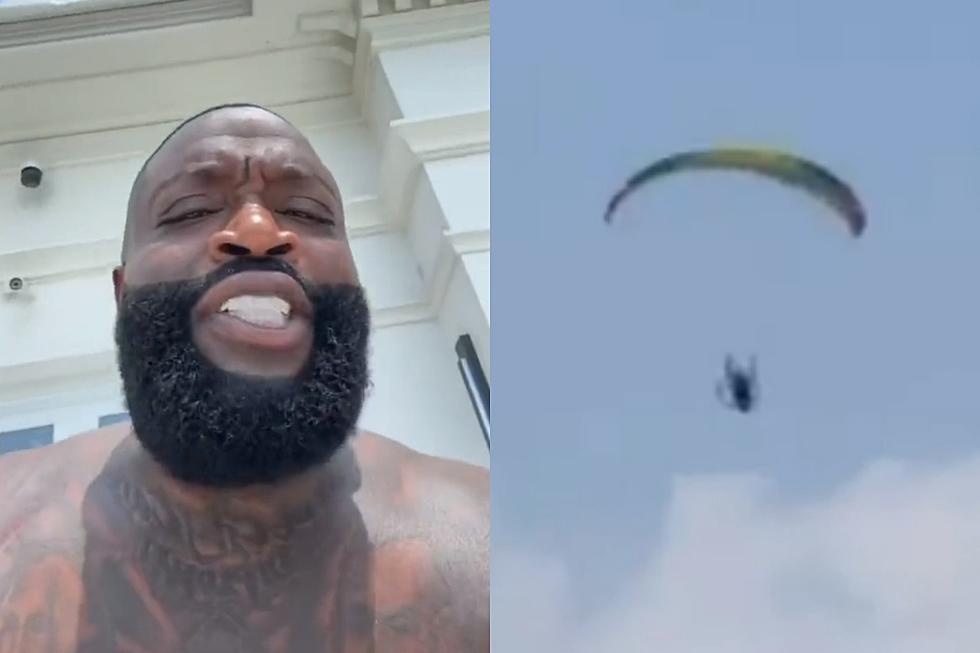 Rick Ross Finally Gets to Witness a Guy Crash His Pool Party in a Parachute – Watch
richforever/Instagram
Rick Ross finally got to witness the parachuter land on his Georgia estate during the rapper's pool party over the weekend.
Parachuter Crashes Rick Ross' Pool Party
Rick Ross hosted a huge pool party at his Georgia estate, dubbed The Promise Land, on July 2. During event, a person came skydiving onto the rapper's 200-plus acre property. Rozay captured the moment on video. In the clip below, Rick Ross is ecstatic after getting word that the "parachute guy" is swooping in.
"There he go!" yells Ross in the video. "Oh my god! It's the parachute guy. Hey, don't land on the roof!" he later warns. Luckily, the man landed safely in the grass.
Rick Ross Misses First Parachute Landing
This is not the first time a man in a parachute has landed on Rick Ross' property. Last month, the same stunt was pulled during Rick Ross' Second Annual Car & Bike Show, which also took place on the rapper's Fayetteville, Ga. estate. Ross missed the spectacle and urged fans on social media who might have the footage to send it to him.
Rick Ross' Diving Board Mishap
The "parachute guy" wasn't the only viral moment from Rick Ross' recent pool party. Video of the rapper's failed attempt at jumping off his diving board also made waves. In the clip, the Miami rapper goes to jump off his diving board when his knees give out and he falls into the water instead of diving.
See video of the man who crashed Rick Ross' pool party in a parachute below.
Watch a Parachuter Land on Rick Ross' Estate, Crashing His Pool Party Below
See Rappers Named After Notorious Crime Figures