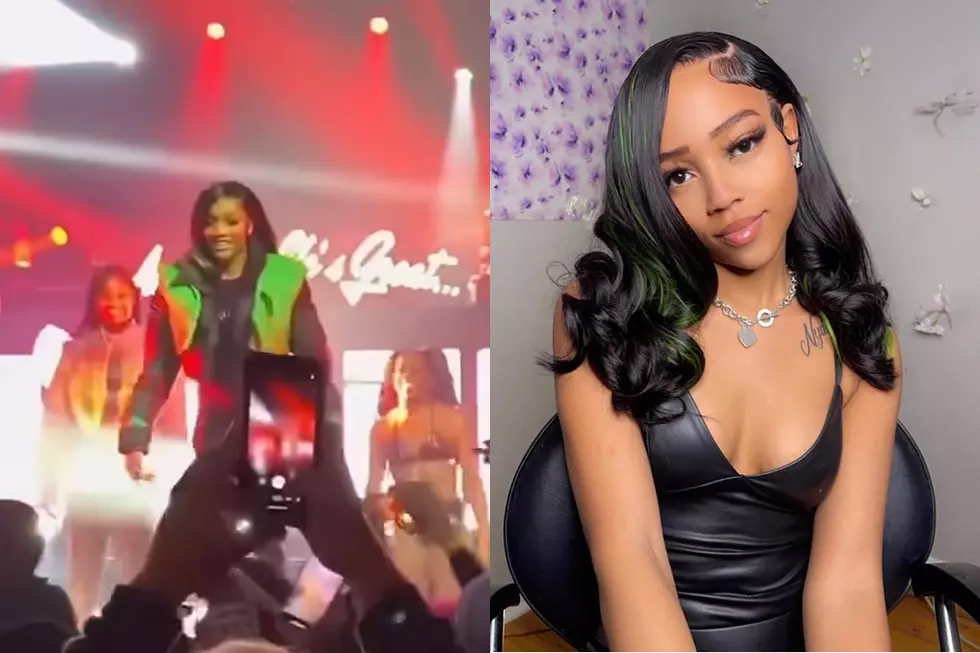 GloRilla Fan Who Caught Rapper's Wig at Concert Goes Viral After Wearing It Herself, Glo Responds – Watch
bigboujiela/Instagram
One big-time GloRilla fan is going viral for not only catching the Memphis rapper's wig at a recent show but installing it onto her own head. GloRilla has since responded.
On Wednesday (March 1), video footage of an excited GloRilla enthusiast who goes by Bigboujiela on Instagram began to rapidly circulate the internet after she hit up IG to post a clip of herself wearing the "Tomorrow 2" spitter's wig. The fan acquired the wig after GloRilla tossed the hairpiece into the crowd when concertgoers tried to snatch it at a recent show and upon seeing the now-viral video, Glo has offered up a reaction.
In an initial Instagram reel posted by Bigboujiela, the IG user can be seen holding the trophy she claimed from inside of a car following GloRilla's performance on Sunday (Feb. 26) in Philadelphia. The reel then switches to footage of Glo throwing the wig in Bigboujiela's direction during the show and after a brief melee, the ecstatic fan ends up with it in her possession.
Then, on Tuesday (Feb. 28), the GloRilla fan hit up her Instagram Story to offer up proof of her unique souvenir. At first, the apparent periwig aficionado explained that while she hadn't installed the wig onto her own head just yet, she was looking forward to adding it to her already extensive collection.
"No, I didn't Install the wig, stop asking," Bigboujiela wrote. "My wig collection BEEN flawless. Can't wait to add big Glo's."
However, by Wednesday, the proud new owner of GloRilla's black and green hairpiece returned to Instagram to share that she had immaculately installed the wig upon her own head. When XXL reached out for confirmation regarding her new fashion choice, Bigboujiela responded by saying, "Hey, yes. I have her wig installed on me right now!"
Once word got back to GloRilla that the wig she tossed into the Philly crowd not only found a new home but was skillfully installed onto one of her fan's heads, she posted an Instagram Story of her own in response. She captioned a photo of Bigboujiela wearing the wig with a number of heart eyes emojis and wrote, "OK, she caught."
GloRIlla's now-viral performance in Philadelphia saw the "Internet Trolls" rhymer capping off her recent tour in support of her CMG debut project, Anyways, Life's Great... The 15-city excursion found GloRilla racking up several interesting experiences with her increasingly growing fan base. In two separate incidents last month, a fan threw a drink on GloRilla for not taking the stage at an afterparty in Oakland, Calif., and in Denver, a fan threw a jacket at Glo while she was performing.
See the GloRilla Fan Wearing the Rapper's Wig and Glo's Response Below
See the Definitive List of Bizarre Tweets From Rappers