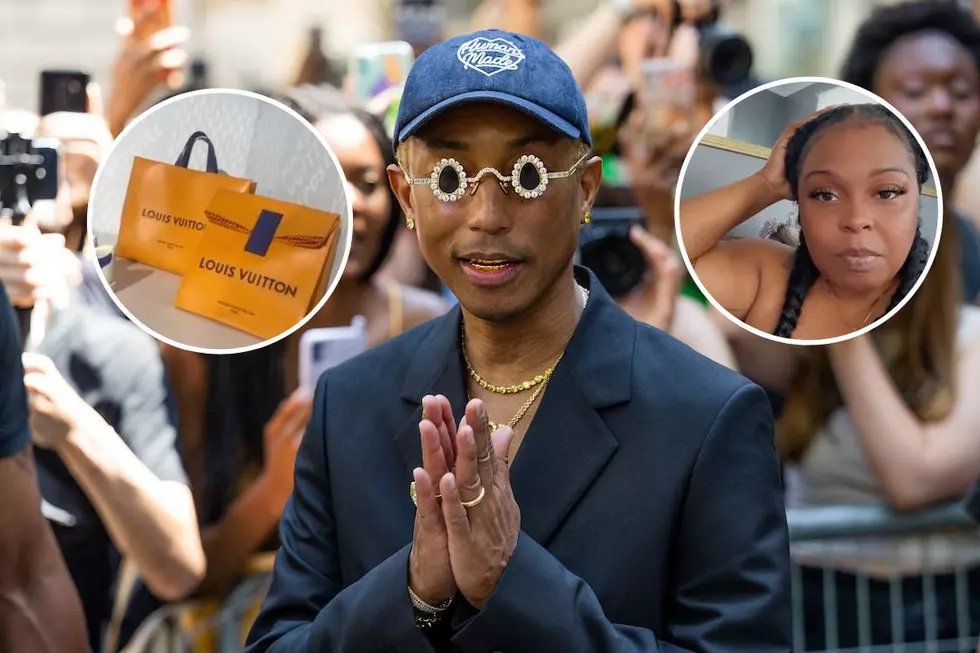 Pharrell Called Out for Allegedly Stealing Indie Designer's Idea for His Louis Vuitton Shopping Bag
Christian Vierig/Getty Images/harpersbazaarhk/Instagram/fly4ikellie/tiktok
Pharrell Williams has been called out by an independent designer for allegedly stealing her idea for his leather Louis Vuitton shopping bag.
What Did Pharrell Williams Allegedly Copy?
On June 22, designer Kellie Ford hopped on her TikTok page to blast Pharrell for allegedly stealing her idea for turning the Louis Vuitton paper shopping bag into a luxurious leather tote bag. In her video, Ford explained in 2021 she repurposed the Louis Vuitton shopping bag into a leather purse. She posted a video of her creation and it went viral with over 10 million views, according to the designer. Even legendary hip-hop designer Dapper Dan saluted Ford on her creation.
Fast-forward to 2023. At Pharrell Williams' Louis Vuitton Menswear Spring-Summer 2024 show in Paris last week, a leather Louis Vuitton shopping/tote bag and lunch bag were presented at the event (see video below).
In a series of TikTok videos, Ford was not happy about it and voiced her frustration about seeing her creativity being used without some type of acknowledgement.
Several people seem to support Ford's position that Pharrell and LV stole her idea. But others mentioned that Ford initial use of Louis Vuitton's brand to re-create her bag was copyright infringement. But Ford later explained in another video that her "concept" is the issue. She claimed that Pharrell/Louis Vuitton pilfered her "concept" without acknowledgment. Watch the videos below.
XXL has reached out to Pharrell Williams and Louis Vuitton for comment.
Pharrell Williams Held His First Fashion Show as Creative Director of Louis Vuitton in Paris
Last week, Pharrell presented his Louis Vuitton Menswear Spring-Summer 2024 collection. Among the celebrities in attendance were Tyler, The Creator, Kim Kardashian and hip-hop couples Rihanna and A$AP Rocky and Beyoncé and Jay-Z. Speaking of which, Hov closed the entire event with a special performance with Skateboard P. You can watch their performance below.
Watch Pharrell Williams' Louis Vuitton Men's Spring-Summer 2024 Fashion Show Below
See Rappers and Hip-Hop Artists Who Sold Their Publishing for Huge Payouts