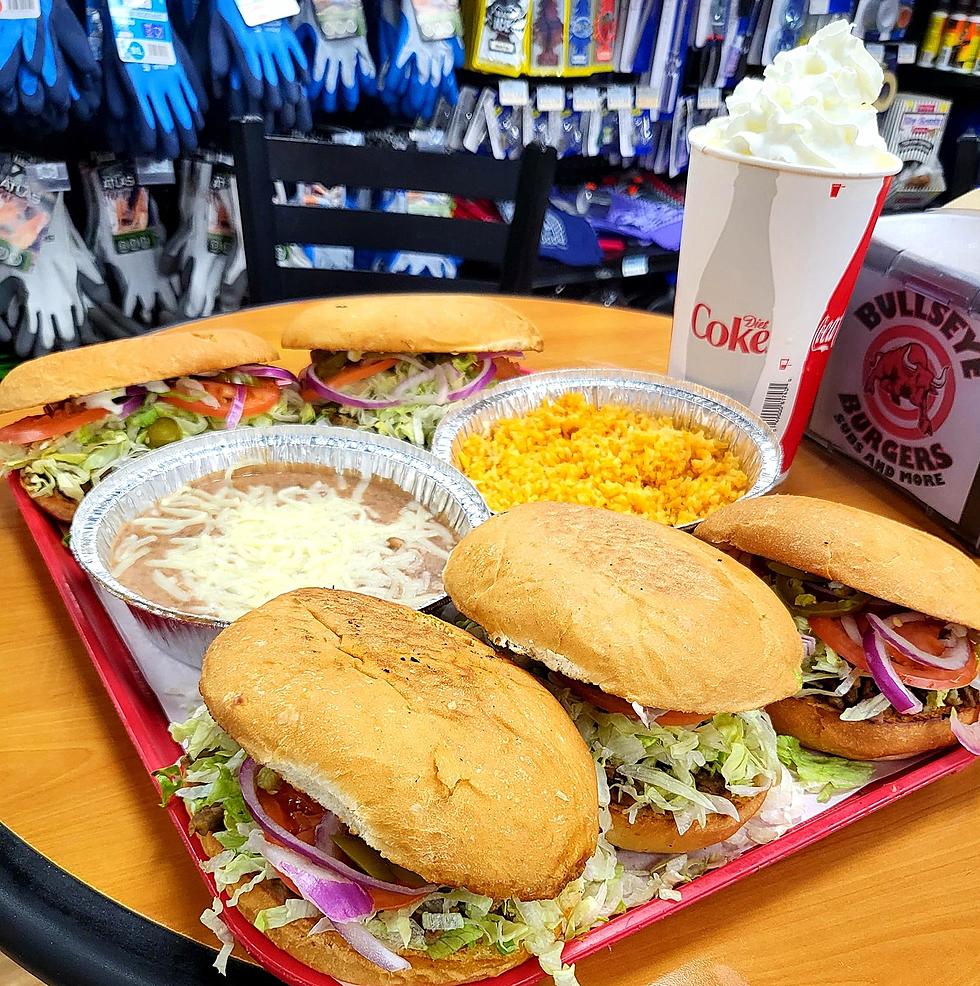 6 Food Challenges to Take On and Win Money in Yakima
Firing Center Chevron Bullseye Burgers Subs and More via Facebook
Think you've got what it takes to eat fast and win big? Ok! Competitive eaters, we start off with a challenge that tests your skills and helps a great cause.
Bullseye Burger
This is a perfect spot to fill up your tank and flex your eating skills. Take a drive to 51 Firing Center Road in Yakima, Washington. It's open 24 hours so anytime is a good time for you to take on the Bullseye Burger Challenge.
It consists of five Bullseye Burger Challengers, a basket of fries, and a Bullseye Burger Milkshake. Eat it all in under (pending) minutes and you win $50. Can't quite get there meet the time limit? You pay $10 for the meals and $10 goes to charity. That's a pretty sweet place to start out if you're a novice
UPDATE 12/6/2021
Joel Hansen, competitive eater and current champ of the Bullseye Burger Challenge swept through a few challenges while visiting. He managed to can down five burgers, a basket of fries, and a milkshake in less than three minutes! - He just came back on Saturday, December 5th, 2021 to take on the newest challenge and also the taco challenge. Then went over to My Ma Dim Sum to take on the Pho challenge again!
The technique this guy uses really seems to work.
Bullseye also offers a Table Burrito Challenge that Joel crushed as well within the last 24 hours John took on the challenge and almost made it!  The pot grows until the challenge is met and is currently $310! All YOU have to do is finish the entire burrito in under six minutes.
Then there's the Taco Challenge. 20 Tacos in under 15 minutes and win $50 and some swag! The cost of this burrito for meal planning sake is $25.
NEW CHALLENGE!  New eating challenge The Bullseye Tortuga Challenge.  5 Big tortas a plate of rice a plate of beans and 44oz shake in 8 minutes. Complete it you win the jackpot which is starting at $400.  If you fail it will cost you $40 and the humiliation of being beaten by the bull. Jackpot will increase $20 with every failed attempt.
My Ma Dim Sum
Joel also took on the Pho challenge at My Ma Dim Sum but I just checked with the owner and she REALLY wants a local to take the prize. Here's what you have to do. You have one hour to finish three pounds of meat and two pounds of noodles and you win $250!
Waffles Cafe
It's called the Iron Man Breakfast Challenge. If you can finish the whole thing, with no time limit, you'll receive a free t-shirt and your name gets put on the wall with the other winners! I have been advised that if you'd like any chance of finishing, don't go with the chicken fried steak. Though delicious, it's huge and makes it REALLY hard to finish.
Food Challenges
What Are the Signature Drinks From Every State?
50 Most Popular Chain Restaurants in America
YouGov investigated the most popular dining brands in the country, and Stacker compiled the list to give readers context on the findings. Read on to look through America's vast and divergent variety of restaurants—maybe you'll even find a favorite or two.
KEEP READING: 3-ingredient recipes you can make right now