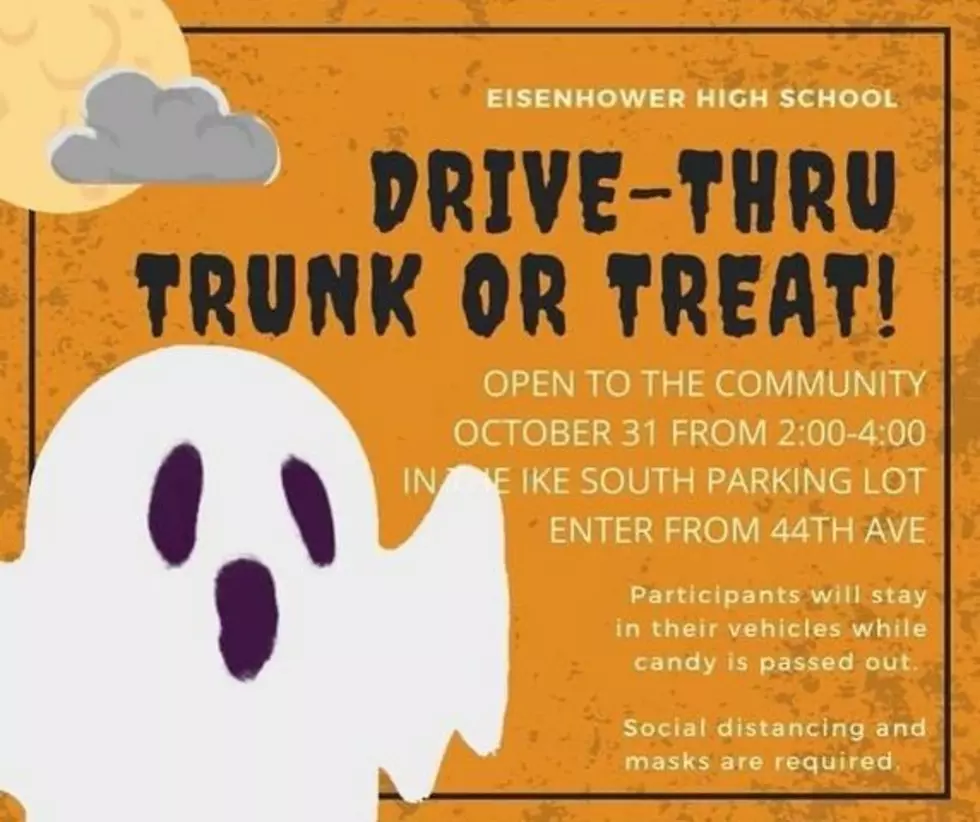 Every Trunk or Treat in the Yakima Valley for 2020
This event on October 31st is open to the community
Last night kicked off the fun in East Valley and as you can see they were doing it up real nice
Thursday, October 29th, 2020 there will be a drive-through Trunk or Treat at Davis High School in Yakima. Located at 212 South 6th Ave. This is a free event brought to you by Davis ASB between 5 pm - 7 pm. Please don't forget to bring your mask
Thursday, October 29th between 4 pm - 6 pm at the Granger School District Central Office Parking Lot
A Domestic Violence Awareness Drive-Through Trunk or Treat experience on Friday, October 30th, 2020 4 pm - 6:30 pm at the Yakama Nation Cultural Center located at 100 Spiel-yi Loop, Toppenish, WA 98948
Howards Medical Supply in Yakima. Located at 1101 North 16th Ave will be hosting a drive-through trunk or treat experience and 107.3 KFFM will be there broadcasting live between 6:30 pm - 8 pm
You could take the family to Mabton on Friday and enjoy a walking dead trunk or treat with a live dj, it's costume friendly, mask friendly between 6 pm - 8 pm located at 417 North 6th Ave, Mabton, WA  98935
Friday, October 30th and Saturday, October 31st at Franklin Middle School in Yakima there will be a Trunk or Treat with loads of candy for the kids
Ooh, this is a twofer! Karlee's Coffee, located at 171-279 Fort Rd, Toppenish, WA 98948, and Jacelyn's Java located at 2421 W. Wapato RD
Wapato, WA 98951 have got the lady vampires and goblins working to hand out candy and small toys to the kids on Friday, October 30th between 12 pm - 4 pm and again Saturday, October 31st from 12 pm - 3 pm. Please make sure that you wear your masks and stay in your vehicles
Trunk or Treat drive-by parade in Selah and two locations to trunk or treat between 4 pm - 7 pm. North Park Center in Selah and the Selah Middle School Parking lot on Saturday, October 31st 2020
Eisenhower High School in Yakima is pumped to invite the entire community out of the South Ike parking lot, entering from 44th Ave, for a free drive-through experience. Please wear your masks and stay in your vehicle and candy will be passed out to everyone. Saturday, October 31st, 2020 from 2 pm - 4 pm
On Saturday, October 31st in the Jiffy Lube parking lot in Yakima, located at 3310 West Nob Hill BLVD, Beyond City Light CC and Street Demons CC is putting on their 1st annual trunk or treat between 6:30 pm - 9:00 pm. This is a free event, with covid preventions in place and a raffle contest as well
Saturday, October 31st at Yakima Law PLLC, located at 212 North Naches Ave in Yakima The Latino Community Fund of Washington is hosting a trunk or treat between 12 p - 4 pm. Please make sure to wear your masks and also if you have questions about voting, this would be a great time to ask your questions
Saturday, October 31st at 4our Direction, located at 50 W Wapato Rd, 

Wapato, WA 9895, will be hosting a Trunk or Treat from 4 pm - 7 pm

Saturday, October 31st at the Toppenish Longhouse from noon until 3 pm there will be a drive-through Trunk or Treat featuring goodie bags and a small to-go meal provided. This is sponsored by the Toppenish Longhouse and if anyone else is interested in getting involved they are encouraging it. Please contact Wesla Selam at 509-901-3021 or Mary Waphat at 509-314-0045 for more info
Saturday, October 31st Ambitious Barber Shop, located at 810 West Nob Hill Blvd in Yakima is ready for you to drive through because they will be having a trunk or treat, wearing masks and glove while passing out candy between 5 pm - 8 pm.
If you know of more please don't hesitate to message us and we will continue to update the list!
Enter your number to get our free mobile app
25 Scaredy Cat-Approved Halloween Movies