The New Dew Is In Yakima. Have You Tried Mtn Dew's Spicy Flavored Soda?
tsm/Timmy!
Let me first start off by saying, this is in NO WAY a paid advertisement for this brand of carbonated beverage, or any carbonated beverage. I must also say that this is in NO WAY a paid advertisement AGAINST this brand of carbonated beverage or any carbonated beverage. I saw a meme online incorrectly labeled "Flamin' Hot Cheeto Mountain Dew" and I was intrigued and kept my eyes open. I finally found it at the store, bought it with my own money, and my friends and I gave it a try.
Before I tell you what I thought of this drink, just know that the three of us who tasted this soda are in no way professional taste testers. One of us talks on the radio (me) and the other two work in the pharmacy industry.
Qualifications for being a Soft Drink Taste Tester
My qualifications to judge this soda is simple, I'm a fat guy, and I enjoy soda. I have the clothes sizes and dental bills to prove that. The types of pop I usually enjoy is Dr. Pepper, Diet Pepsi as well as Sprite. When it comes to Mtn Dew, the Code Red version is my favorite. This new Mtn Dew flavor...
Mtn Dew Flamin' Hot Taste Test
I don't like to say something tastes horrible, because much like comedy, music, food, what people like and don't like is subjective. For me... this soda HURT! Not just in the "it's too spicy" sense, it's the "my throat still hurts several minutes later" after taste. At first drink it was very nice, a citrus lime taste, then after you swallow it, you get the acid reflux feeling, then I could feel the burning all the way down to my stomach. My two friend's reactions:
"Wow, it's like someone took crushed up spicy cheetos and put it in a 7up with some baby tears for good measure"
- Nathan
Eugene, who has consumed the most of the 12 pack that I bought, has said that it does get a little better each time, but not much. I let him take a can to his wife, who was not a fan. Although he has continued to drink them (mainly because I make him, and I'm German, i.e. Schadenfreude), his initial reaction was classic Ralph Wiggum.
"Oh God, it tastes like... BURNING!" - Eugene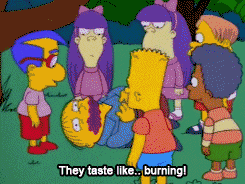 Giphy.com
If this type of thing is what you crave and you get the spiciest and the hottest of peppers, sauces, toppings, then give this a try. For me, it ain't my thing, but kudos for Mtn Dew & the rest of the folks at PepsiCo for trying new things, and for giving a clear warning label on the front of the box. If you're curious of the ingredients that go into making a drink that might work like a burning cleanse, here's a look at the nutrition label.
What Are the Signature Drinks From Every State?
CHECK IT OUT: See the 100 most popular brands in America