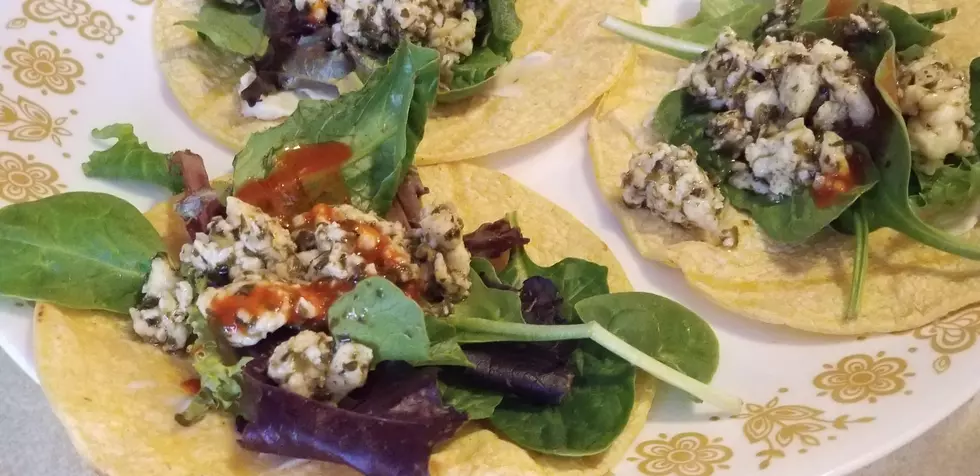 My Breakfast of Champions Is Packed with the Stuff You Need!
Breakfast of Champions
Back in the day while I was still bouncing from one instant fix to another when it came to losing weight I purchased this book that Dr. Oz was pushing The Flat Belly Diet and I fell in LOVE with some of the recipes.
I don't recall losing a significant amount of weight because I still didn't understand the importance of calories in calories out BUT I now understand why this breakfast is something I still enjoy today!
Here is what you will need ingredients wise; Three Corn Tortillas, 1 wedge of garlic herb laughing cow cheese (this flavor combo is a key ingredient) a handful of spinach, 1/4 cup egg whites and two tablespoons of pesto and Tapatio!
The power of pesto - When consumed in moderation, unsaturated fat can contribute to an improvement in cholesterol, as well as decrease inflammation in your body.  Lowering inflammation is good because inflammation is associated with a higher risk for heart disease, cancer, diabetes, Alzheimer's, and many other conditions associated with aging.

 
My breakfast of champions
The only ingredient I failed to take a picture of was the finisher. Tapatio! That little kick with the creaminess of the laughing cow cheese, the fresh crunch of the spring mix coupled with the light egg white scrambled mixed with the pesto is, dare I say it, stupid good. I stay full, satisfied and confident knowing I made a smart choice to kick off my dare or finish it. This doesn't need to be a breakfast food! Tacos are an anytime meal :)
The below video has a few more tricks to reduce that belly fat, including another breakfast and lunch idea. I am not a fan of keto because it isn't something that you can sustain, it's a fast fix. However, there is something to be said about healthy fats so learning some of these belly fat tricks work wonders when you watch your calorie count and keep mixing them up. Delicious and nutritious!
I love the idea of chugging 10 times each time you go for a sip of water and to help the process here are some new water flavors to try!