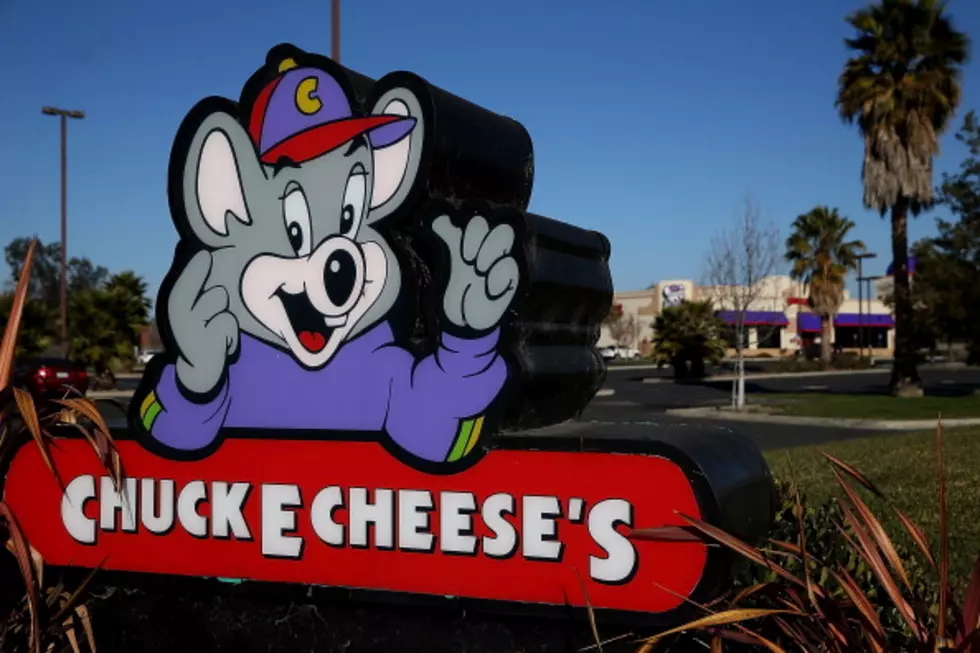 Chuck E. Cheese Pizza Restaurant Is FINALLY Coming to Yakima
Courtesy Getty Images
Update 9/20/22, 6:10 p.m.: Valley Mall management has informed us that despite a previous media report, the leasing negotiations are actually still ongoing to bring a Chuck E. Cheese to the Union Gap location near the mall. The restaurant is tentative.
Have you heard the latest hot GOSS, that Yakima is FINALLY getting a Chuck E. Cheese Pizza restaurant?* We are so excited for them to open up their restaurant/nightclub/casino for kids! Yes, Chuck E. Cheese is on it's way to the Yakima Valley and I, for one say it's about dang time!
Well, technically, the upcoming Chuck E. Cheese Pizza restaurant in Yakima will actually be housed in Union Gap, Washington, but tomato, tomAHto, amirite? Shopping and dining in the city of Union Gap and Yakima always tends to blend together, which is why I say that Chuck E. Cheese Pizza is coming to "Yakima". I have been begging the universe for a Chuck E. Cheese Pizza to come to Yakima for the past decade. I wanted my baby girl, Willow, who was a toddler at the time, to be able to run around in there and burn off some of that "You can't catch me" toddler energy! I have 4 good tips you can use for when the restaurant finally opens, so keep reading!
THAT'S 'GOUDA' NEWS TO ME, AND OTHER CHEESY PUNS TO MAKE YOU GROAN
I guess it's better late than never for Yakima (Union Gap) to finally get a Chuck E. Cheese restaurant of our own. Parents, grandparents, aunties, uncles, and guardians have been driving all the way down to Tri Cities to get a dose of Chuck E. Cheese. I guess you could say we are GRATE-ful that we won't have to make such a long drive there anymore. But don't CHEDDAR tear, Kennewick, we folks here in the Yakima Valley will still find great reasons to visit you.
Chuck E. Cheese Pizza
6340 W. Rio Grande Ave, Kennewick, WA
HOW MY LOVE AFFAIR WITH CHARLES ENTERTAINMENT CHEESE BEGAN
Way back in the ancient times of the late 1980s, my parents used to take me and my little brother to Showbiz Pizza when I was growing up in Nashville, Tennessee. Chuck E. Cheese was Showbiz Pizza's rival and slowly but surely, Showbiz went out of biz. So that left us with Chuck E. as the big 'cheese' in town. I loved the pizza at Chuck E. and was stoked when I got a job working there when I was 19 years old. I was really pumped because I was also old enough to pour beer and work at the register.
I WAS ONCE THE DAYTIME CHUCK E. CHEESE MASCOT
I was horrible working at the register at Chuck E. Cheese in Nashville because I was always typing in the orders wrong. I have no idea how I kept messing up, but mess up I did. My boss decided that I might be better suited for other job duties, such as being the Chuck E. Cheese rat mascot during the day. This led to a bitter rivalry between me and the NIGHTTIME Chuck E. Cheese. She was very protective of who got to be Chuck E. and she felt that only SHE should be allowed to be the mascot because nobody did it better than her. We got into some loud arguments in the breakroom but eventually, we made a truce and she admitted that it took the pressure off of her to have a "backup Chuck E." when she wanted to take a night off work.
TIPS: WHAT TO EXPECT WHEN YOU VISIT CHUCK E. CHEESE PIZZA
TIP #1: Chuck E. Cheese has drastically changed the formula for their restaurants since I was a teen working there. When you go into a Chuck E. Cheese Pizza, you will be stopped at the entrance by someone who handstamps your entire party and they note how many children you are bringing in with you. It helps them keep track of how many kids are bouncing around inside the restaurant plus it helps someone else from running off with your kid(s) whilst you're in the property.
TIP #2: Next, you'll wait in a line of adults who have NO IDEA what to buy. Please look at the online menu and figure out how many tokens you need BEFORE you go to Chuck E. Cheese so that you don't hold up progress. That is one of my biggest pet peeves is long lines. It's not rocket science, you get pizza, drinks, and tokens, make it snappy!
TIP #3: Your kids will have a chance to dance with the Chuck E. Cheese mascot on the dancefloor.
TIP #4: You will probably end up having just a great a time as your kids. The music is fun, the pizza is surprisingly tasty, and did I mention they serve BEER?
WHERE IS THE NEW CHUCK E. CHEESE IN YAKIMA GOING TO BE*?
As mentioned earlier, the pizza place is going to be in Union Gap, Washington. The Yakima Herald spilled the cheese that the location will be at the old Bank of America building. (*Please see the latest updated information at the top of this article!)
CHUCK E. CHEESE PIZZA RESTAURANT
2515 Main St, Union Gap, WA
WHEN IS THE CHUCK E. CHEESE RESTAURANT GOING TO OPEN?
Chuck E. Cheese in Yakima (Union Gap) is expected to start construction in 2023, so it might be a year or two before the restaurant finally opens.
*Yes, Chuck E. Cheese is like a restaurant, nightclub, and casino for kids, and YOU get to be the chaperone and moneybags. Good times, good times. 
*PLEASE NOTE: This article has been updated to reflect the latest information that the Chuck E. Cheese restaurant coming to Yakima that the leasing information has NOT been finalized and the deal is still tentative.
8 Things We Love Most About the Central WA State Fair
We asked a few of our favorite locals what they love most about the Central Washington State Fair. We are sure one of their answers will match yours!
Take a Pic of Yourself in Yakima at One of these 74 Mural Selfie Walls
Did you know that the city of Yakima, Washington, has over seventy-four (74) murals that would make for a fantastic place to get your sightseeing selfie? You've no doubt taken quite a few selfies in front of popular landmarks and selfie wallls.
Keep your eyes out for one of our unique photo-op murals to add to your collection in your social media pics, and stop and take a memorable selfie of yourself in the heart of Yakima!