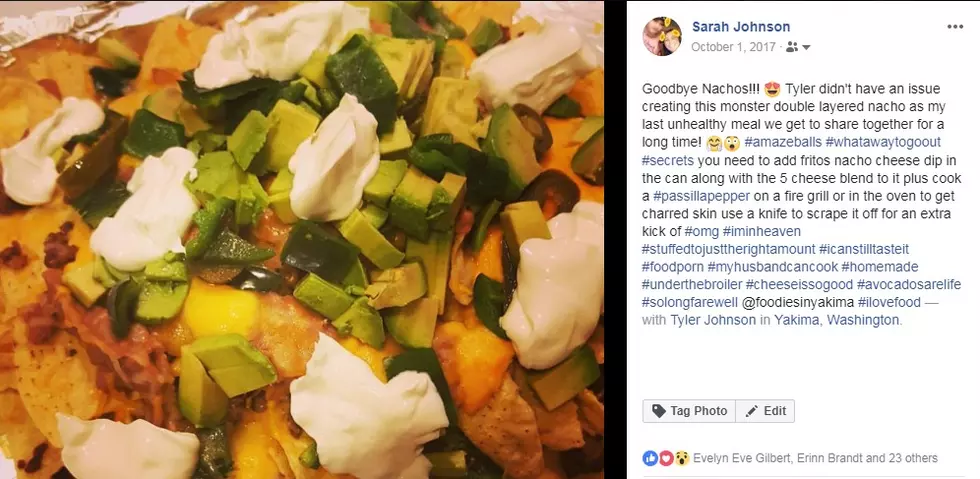 And So It Begins, Food Lovers!
Sarah J's Goodbye Nachos Post
One year ago my husband and I were headed to the store to buy ingredients for goodbye nachos!
I was going to start cutting calories and I had never really tracked food before so if you're going to say goodbye, why not really go for it? Spicy, creamy, with a hint of health...there's avocado on it! ;) Two types of cheese, refried beans it was perfection. I stuffed myself and with each bite wondered if I would ever be eating like this again with my husband. I weighed 231 pounds and the goal I had been going for FOREVER was 172. I was hopeful that this time I would lose the weight but I had tried SO many times before. I inputted every single thing I enjoyed on Sunday October 1st, 2017, and one year later here I am! :) CLICK HERE
How did I do it? I created a calorie deficit and found my tribe! With the help of a fabulous nutritionist I learned it's not what I am eating it's how much. If I am honest with myself and keep a steady account of what I am putting in, I will slowly lose the weight and in turn learn all the while how to maintain it. It's not about cutting everything you love out of your life it's figuring out how to make delicious meals that are satisfying, keep you full longer and help you reach your goals! Do you have a goal?
Get It Right! Get It Tight! is a FREE support group! With Michelle who is a FANTASTIC nutritionist and certified fitness coach. She kindly donates her time every Sunday night at 5pm PST to share her own health journey and open the floor to your questions. There are A LOT of fads out there and quick fixes. This isn't one of them. This is a supportive community with over 300 members who are all over the place in their own health journeys. It's the perfect place to share your success failures and receive support during this process...after awhile it's a lifestyle and after that man we're just having a good time fitting into our jeans and still eating the occasional ice cream cone :)
CLICK HERE for more details on Get It Right! Get It Tight!
Feeling like it's really not food that is the issue but rather the work-outs? That's where What The Health Is Up? Comes in! :) That's right I have TWO FREE & PRIVATE groups for you. This whole journey is a process and after I lost the weight I wanted to experience what it's like to have a flat stomach. HOLY CRAP! It's a lot of work, but man it's worth it! Almost there :) CLICK HERE